03 June 2022, Vientiane Capital - The United Nations Population Funds (UNFPA) and the Government of the Philippines launched a programme for strengthening Lao Youth Union implemented mental health and psychosocial support (MHPSS) for young people as part of COVID-19 response in Laos.  
Ambassador of the Philippines to Lao PDR, Ms. Deena Joy Amatong said: "We believe in the importance of contributing to the wellbeing of youth. With the National mechanisms in place, well set by LYU and thanks to UNFPA's support, I am sure our modest contribution will go long way"
To accelerate the implementation of the National Youth and Adolescent Development Strategy, the support will contribute to achieve the Noi 2030 framework results in support of the SDGs. This partnership will enhance the UNFPA supported hotline run by Lao Youth Union to provide Mental Health Psychosocial Support (MHPSS) for women, girls, and young people. Capacities of young counselors will be strengthened for amongst others: on sexual reproductive health, stress, and  relationship management and MHPSS. These counselors will be able to provide quality youth-friendly counseling services.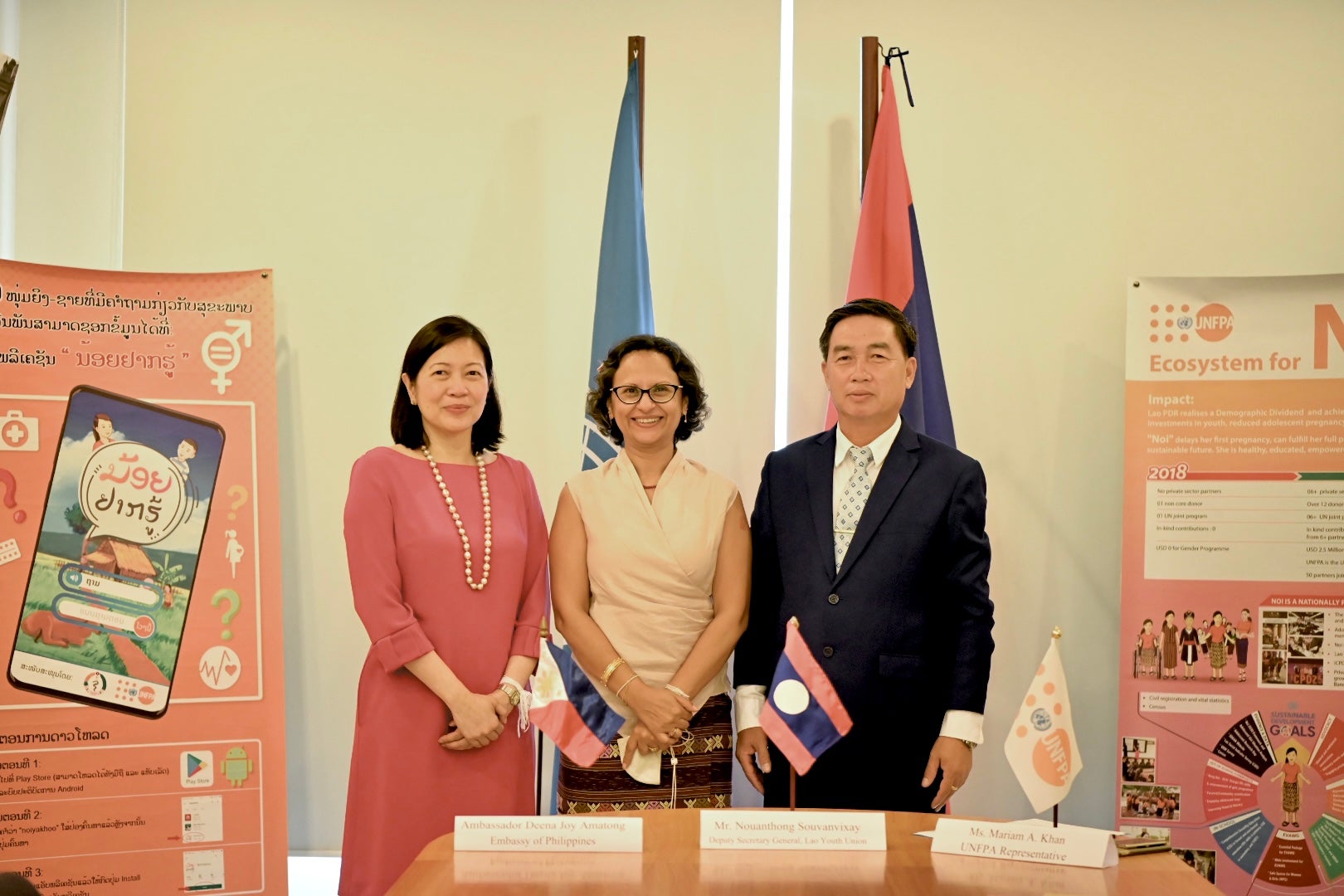 (From left to right) Ambassador Deena Joy Amatong, Embassy of Philippines; Ms. Mariam A. Khan, UNFPA Representative; Mr. Nouanthong Souvanvixay, Deputy Secretetary General, Lao Youth Union.
 
Mariam A. Khan, UNFPA Representative to Lao PDR said: "Greater integration of mental health and psychosocial support is essential to protect the wellbeing and dignity of women, adolescent girls, boys and men. This triangular, strategic collaboration between UNFPA , the Government of the Philippines and Lao PDR is exactly the type of approach required to address challenges in the ASEAN region"
UNFPA has supported national partners to develop standard training curriculum on MHPSS which include resource materials for counselors and volunteers. 
Mr. Nouanthong Souvanvixay, Deputy Secretary General of LYU said: " I would like to thank and congratulate the government of the Philippines in partnership with UNFPA for supporting the development of adolescents and young people in Laos, especially, the MHPSS counseling services and helping them to access the counseling services to deal with stress and problems that they are facing".
As part of COVID-19 response, 63 counselors from the Lao Youth Union (LYU), Lao Women's Union (LWU) and Vientiane Youth Centre (VYC) as well as 320 youth volunteers from National University of Laos were capacitated on MHPSS including referrals of clients to other services such as comprehensive sexuality education (CSE), youth-friendly services and GBV prevention.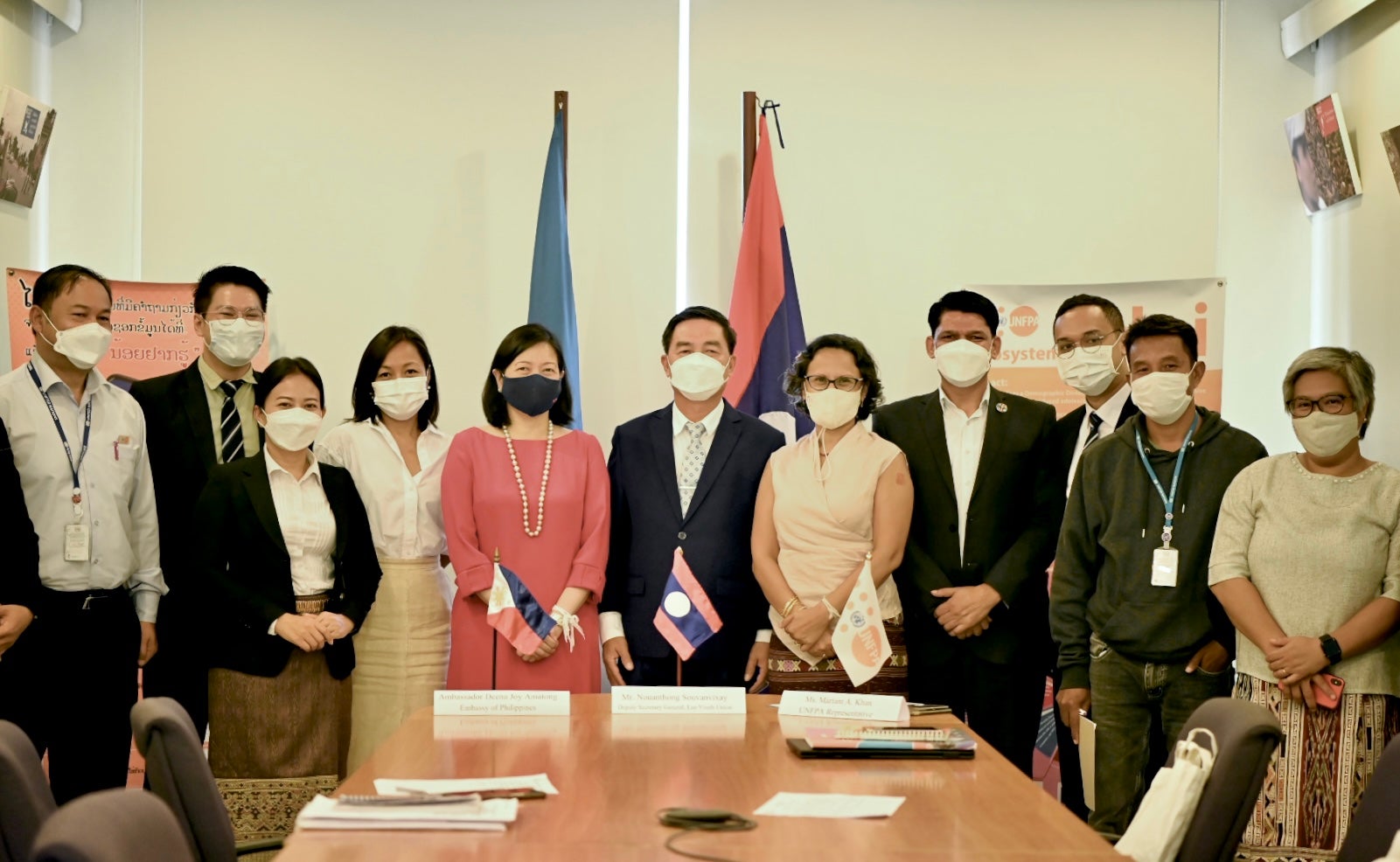 ***************
UNFPA, the UN's sexual and reproductive health agency, works in over 150 countries including Lao PDR, to achieve zero maternal deaths, zero unmet need for family planning and zero gender-based violence.
For more information please contact:
Syvongsay Changpitikoun
Programme Analyst - Adolescent Sexual and Reproductive Health, UNFPA Laos
Fatima Zahra Benyahia
Partnerships and Innovation Specialist, UNFPA Laos