The Ministry of Planning and Investment (MPI) and the Ministry of Health (MoH) in collaboration with the United Nations Population Fund (UNFPA) with the support of the Ministry of Health, Ministry of Education, Lao National Commission of the Advancement of Women, Lao Womens Union and Lao Youth Union, led the celebration of the World Population Day 2012 with a youth day held at the Lao-Japan Budo Center on July 27 with the aim to increase awareness and understanding of young Lao population about reproductive health issues.
The event included a youth exhibit displaying projects and initatives for young people in Lao PDR and a mini-concert with performances by popular lao musicians such as Aluna, Sam, INPUT, JOKER, Piano, Annita and Num Hong. A street dance performance by Dongdok City was also performed.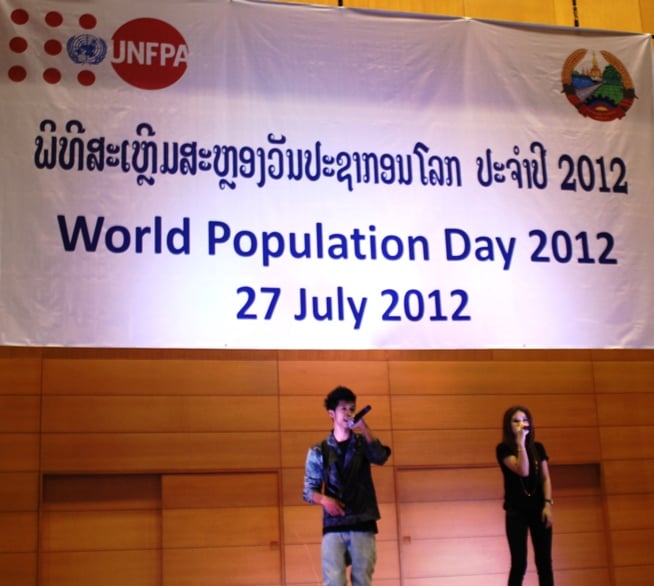 The World Population Day is usually celebrated on July 11. This year, in Lao PDR, it was decided to celebrate this important date during the whole month of July to ensure more participation and awareness-raising at different levels. The observance of the day included a statement delivered by the Deputy Minister of Planning and Investment, his Excellency Dr. Bounthavy Sisouphanthong, an essay contest for young people and a media campaign with Radio and TV spots played nationwide.
During his speech, Dr. Sisouphantong said "the Government of Lao PDR reaffirms its commitment to achieve MDG 5 and commits to invest more to ensure that every woman, every man and every young person in the country has access to reproductive health care, including voluntary family planning, assisted childbirth and prevention of sexually transmitted infections, including HIV. This will directly impact on achieving the other MDG targets in Lao PDR, as we ascend to graduating from LDC in 2020."
Dr. Esther Muia, UNFPA's Representative said "Universal access to reproductive health is about the rights and health of women, men and young people, and it is about building communities and nations. We want to make sure that in Lao PDR every pregnancy is wanted; every childbirth is safe and every young person's potential is fulfilled"
Each year, the World Population Day focuses attention on different population-related topics. In 2012, the World Population Day highlights the need to ensure "Universal Access to Reproductive Health Services", one of the targets of the Millennium Development Goal 5 "Improve Maternal Health". Ensuring universal access to Reproductive Health services is an important component of the ICPD - International Conference on Population and Development, Programme of Action, signed in 1994 by 179 countries, including Lao PDR.
The theme was chosen to re-energize commitments towards universal access to reproductive health and recognize those who provide information, services and supplies.