20 young artists including the popular singer Alouna and the Dance Crew Hoppin will be joining the World Population Day (WPD) celebration 2013, to be held on July 11th at the National Cultural Hall from 3:00 to 8:00 pm.
Advert produced by the Center for Information and Education on Health from the Ministry of Health to invite the audience to the World Population Day 2013.
The activity is organized by the Ministry of Planning and Investment (MPI) and other government offices in collaboration with the United Nations Population Fund (UNFPA). The message of the celebration is "Promote adolescent girls' well-being for a better Laos".
The event will include a mini-concert, dance and drama performances by popular Lao artists such as Aluna, Hoppin, 831, Input, Joker, Annita, Hong and Toukta.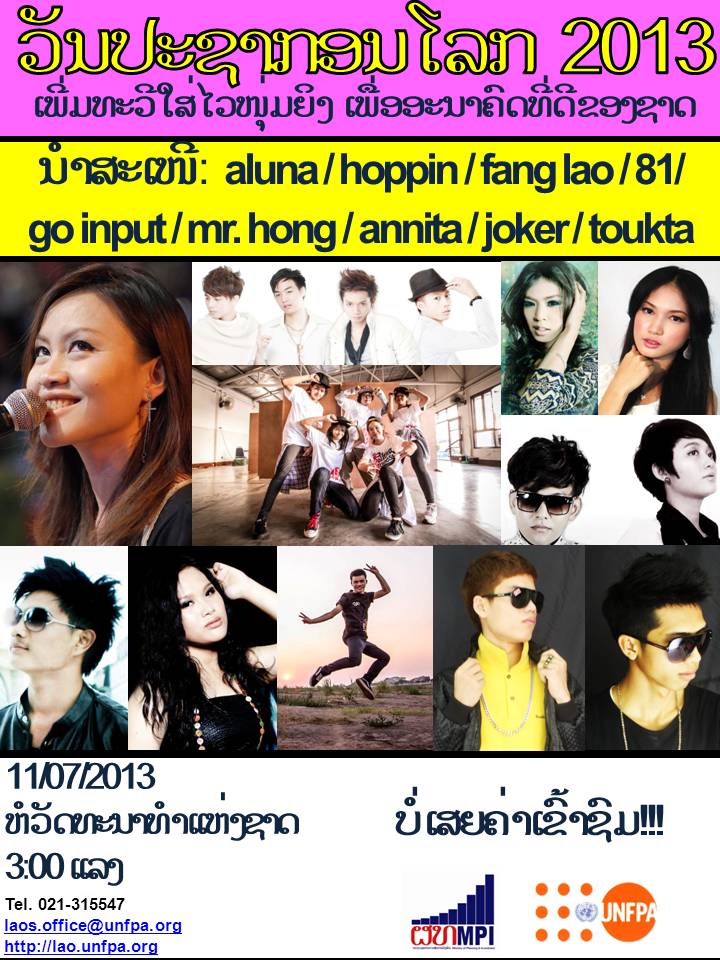 The audience will have the opporutnity to visit an exhibition displaying projects and initiatives from different UN agencies and development partners working with young people in Lao PDR.
For more information, please contact:
Mr. Diego De La Rosa
Advocacy and Communications Officer
United Nations Population Fund
drosa@unfpa.org 
Tel: 856-21-315547 ext 116