Vientiane, 26 March 2012 - The Ministry of Planning and Investment (MPI) and the United Nations Population Fund (UNFPA) met on March 26 and 27 at Rashmi's Plaza Hotel to discuss strategic planning for the implementation of UNFPA's 5th Country Programme (2012-2015). The meeting brought together MPI's Department of International Cooperation (DIC) as the coordinating body of UNFPA's work in Lao PDR and other implementing partners including central level senior management, senior technical officers and financial officers from MPI, the Ministry of Health (MoH), the Ministry of Education and Sports (MoES) and the Lao National Commission for the Advancement of Women (LaoNCAW). Provincial officers from four target provinces (Savannakhet, Phongsaly, Oudomxay, and Luangnamtha) and officers from UNICEF, WHO and UNDP also attended the meeting.

H.E. Mr. Somchith Inthamith, Deputy Minister of Planning and Investment, in his opening statement remarked "This is the first year of the implementation of the 5th Country Programme (2012-2015) supported by UNFPA that will contribute to the national development goals of Lao PDR. To ensure all programme components supported by the Fund are relevant and effectively contribute to the achievement of the MDGs especially 3, 4 and 5, a concrete programme framework for 2012 -2015 is essential."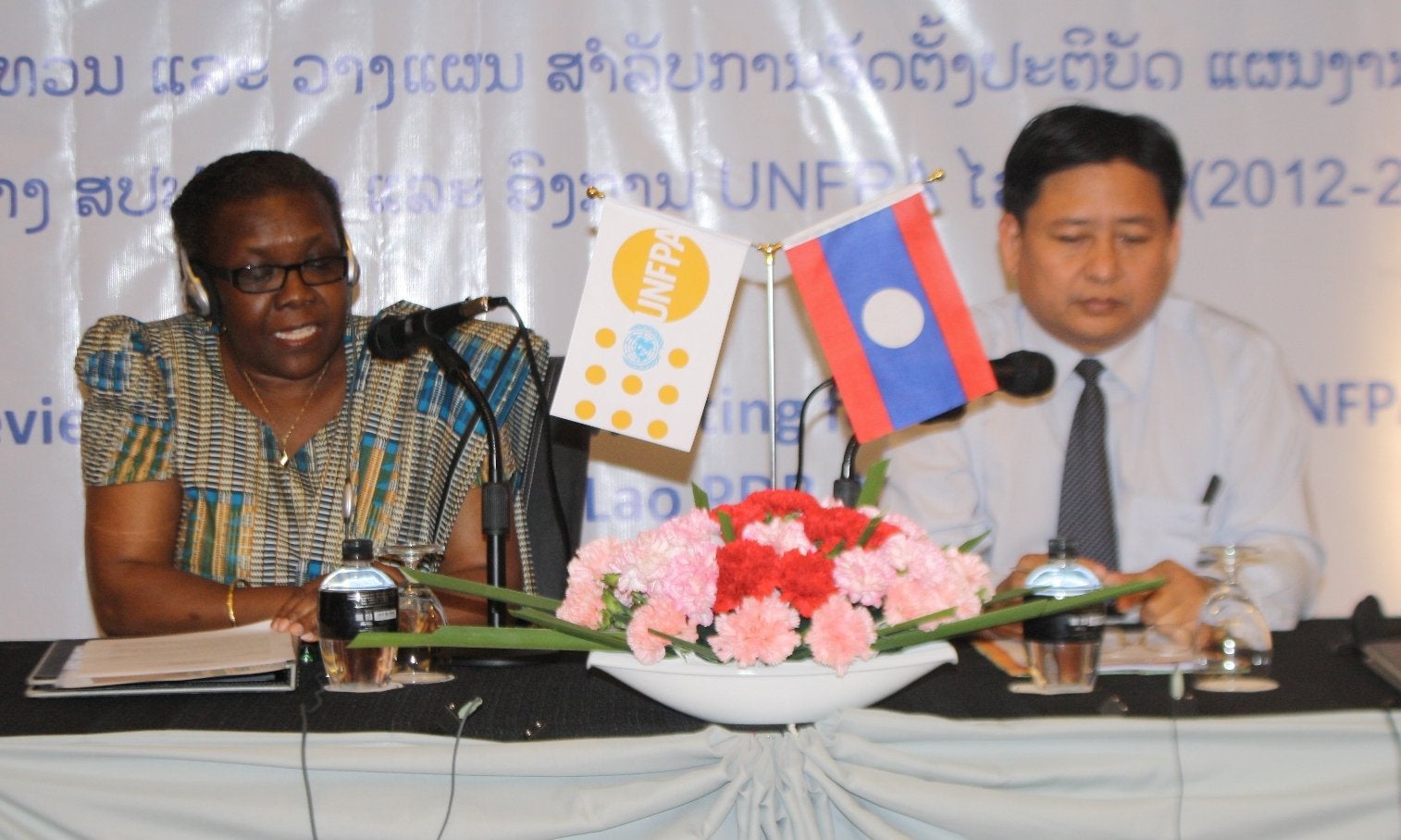 Dr. Esther Muia, UNFPA Representative and H.E. Mr. Somchit Inthamith, Deputy Minister of MPIIn emphasising the area of focus of UNFPA's assistance to Lao PDR, Dr. Esther Muia, UNFPA Representative, said "The focus of CP5 will be on women's reproductive health and right, and adolescent and young people, broader than Sexual and Reproductive Health. However, we believe that gender equality and responding to new population dynamics in particular increasing availability, accessibility and use of data, such as LSIS and Census. Our work will focus both upstream and downstream to ensure enabling environments/polices and commitments at the central level and actual implementation at the ground."
UNFPA's 5th Country Programme (2012-2015) is aligned to the Seventh National Socio Economic Development Plan (NSEDP) 2011-2015 and the United Nations Development Assistance Framework (UNDAF) 2012-2015.
UNFPA Lao PDR have agreed, in consultation with Asia Pacific Regional Office, to develop a framework for four years to guide the programme implementation in light of the new strategic plan for UNFPA within the context of CP5 and UNDAF Action Plan. This draft programme framework was shared with the implementing partners to introduce results focus approach for the implementation of the CP5. The workshop agreed on a roadmap for a consultative process to finalise the framework which would ensure joint ownership and accountability for achieving the results of CP5.
UNFPA'S NEW BUSINESS PLAN AND CLUSTERS APPROACH. 
In September 2011, following an extensive review of UNFPA's recent work, as well as the changing context within which it operates, a new, more focused Strategic Plan was adopted by the Executive Board. It will guide the Fund's work through 2013. At the centre of the new plan is advancing the right to sexual and reproductive health by accelerating progress towards MDG5: to improve maternal health. Priority will be given to advancing two key MDG targets: to reduce maternal deaths and to achieve universal access to reproductive health, including family planning.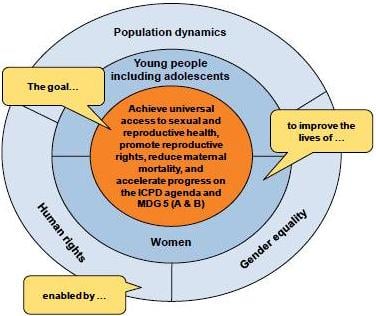 In addition to the new business plan, UNFPA shared the new clusters approach that has been adopted at the global level to improve institutional delivery. The new approach will include 2 clusters, one focusing on Adolescents and Youth and the other on Women's Reproductive. Ways to operationalize the new business plan and clusters approach were discussed with the implementing partners.
In presenting the activities implemented so far in 2012, partners discussed challenges encountered in delivering planned results and proposed possible ways to address them. Improved coordination among sexual and reproductive health related programme components at intra-sectoral as well as at inter-sectoral level was underscored as an important consideration for the management of results with reduced transaction costs, better use of resources and breaking silos. Improving the capacity of the implementing partners for quality and timely reporting of financial and programme results was also highlighted as an important area of focus for the UNFPA Country Office in Lao PDR.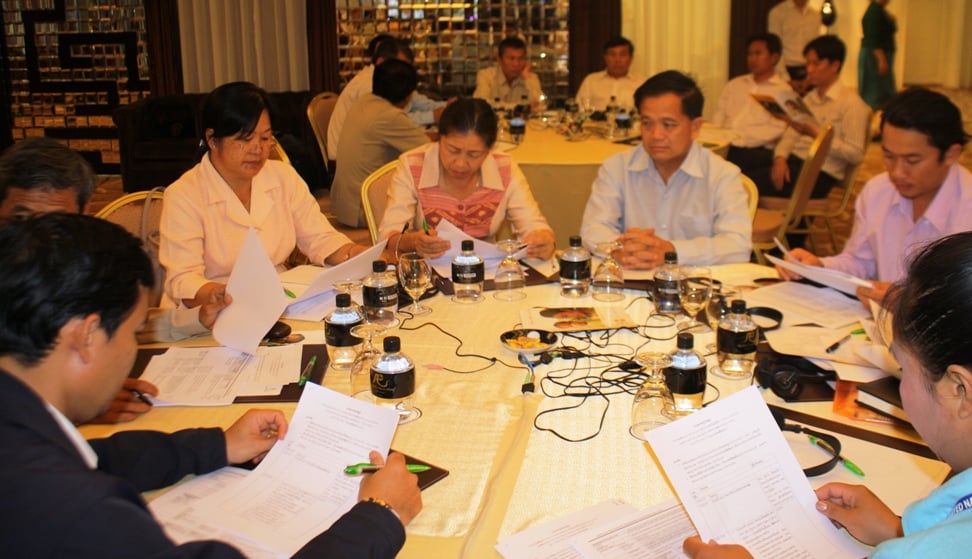 ICPD
During the meeting, a highlight on the programme of action of the International Conference on Population and Development (ICPD) was presented by UNFPA with a roadmap for reviewing the progress of implementation of the ICPD in Lao PDR. The ICPD, a global meeting held in Cairo in 1994, was the scenario for 179 countries, including Lao PDR, to agree on concrete strategies to advance gender equality and eliminating violence against women, ensure universal access to reproductive health care, including family planning, assisted childbirth and prevention of sexually transmitted infections including HIV/AIDS, respond to the needs and interest of adolescents and youth, reduce infant, child and maternal mortality and focus on issues relating to population and protecting the environment. As the programme's twenty year anniversary approaches, the world's nations have united again to reaffirm these commitments with the launch of ICPD Beyond 2014.
Media Contact:
UNFPA: Diego De La Rosa. drosa@unfpa.org / +856-21-315547 ext.116