The world population is projected to reach 7 billion this year. How we respond now will determine whether we have a healthy, sustainable and prosperous future or one that is marked by inequalities, environmental decline and economic setbacks, according to The State of World Population 2011 report, published today by UNFPA, the United Nations Population Fund. Download the full report
"With planning and the right investments in people now-to empower them to make choices that are not only good for themselves, but also for our global commons-our world of 7 billion can have thriving sustainable cities, productive labour forces that fuel economies, and youth populations that contribute to the well-being of their societies," says UNFPA Executive Director Dr. Babatunde Osotimehin in the foreword of the report, entitled People and Possibilities in a World of 7 Billion.
The State of World Population 2011 is mainly a report from the field, where demographers, policymakers, governments, civil society and individuals are grappling with population trends ranging from ageing to rapidly rising numbers of young people, from high population growth rates to shrinking populations, and from high rates of urbanization to rising international migration. The report is also being launched in more than 100 other cities worldwide.
Our record population size can be viewed in many ways as a success for humanity because it means that people are living longer and more of our children are surviving worldwide, the report shows. But not everyone has benefited from this achievement or the higher quality of life that this implies. Great disparities exist among and within countries. Disparities in rights and opportunities also exist between men and women, girls and boys. Charting a path now to development that promotes equality, rather than exacerbates or reinforces inequalities, is more important than ever.
"Women and girls are half of our population, to empower them is an important step towards eradicating poverty and stabilizing population growth. Reproductive rights, the right to freely and responsibly determine the number, spacing and timing of child birth without coercion, discrimination and violence - are cornerstones of a sustainable development", said Ms. Della Sherratt, UNFPA's Officer in Charge.
The 7 billion milestone "is a challenge, an opportunity and a call to action. We have an opportunity and responsibility to invest in adolescents, youth and women," stated Ms. Sherratt "With the right policies, investments and social support to young people and women; they will help build a solid foundation to sustainable and equitable development in Lao PDR."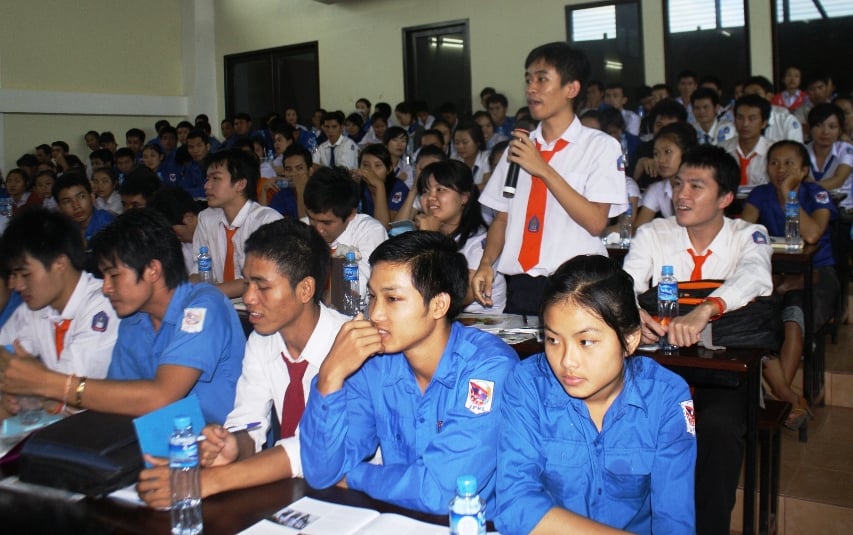 Of the world's 7 billion, 1.8 billion are young people between the ages of 10 and 24. In Lao PDR, 60% of the population is under 25 years old. Ms. Sherratt noted. "Young people hold the key to the future, with the potential to propel the economy through their creativity and capacities for innovation. But the opportunity to realize youth's great potential must be apprehended now," said Ministry of Planning and Investment. "We should be investing in the health and education of our youth. This would yield enormous returns in economic growth and development for generations to come."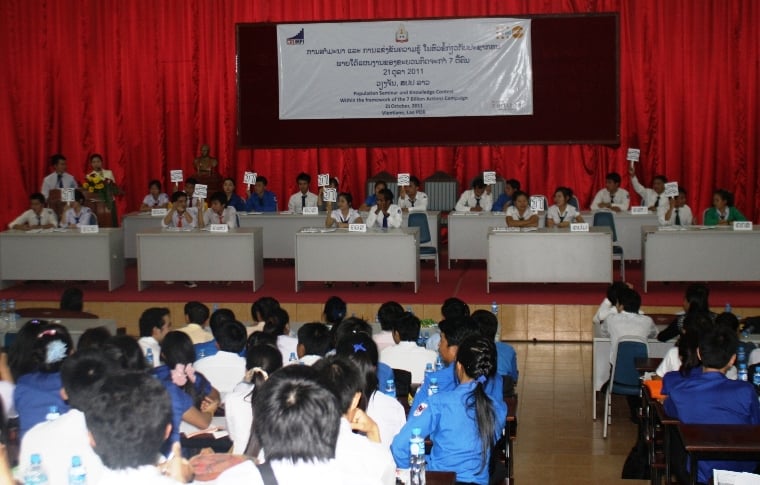 With the aim to involve the Lao youth in the discussion the Ministry of Planning and Investment with the support of UNFPA and the National University of Laos organized a population seminar and knowledge contest at the Dongdok Campus in Vientiane. The activity saw the presence of more than 300 hundred students from different faculties of the university who actively participated in various presentations, contests and discussions about population growth, family planning and other development matters.
For more information, please contact:
Diego De La Rosa, Tel. (+856) 20 59936509, drosa@unfpa.org
Pafoualee Leechuefoung, Tel. (+856) 21 315547, leechuefoung@unfpa.org