24 May 2018, Vientiane Capital – Quality of care for women and newborns have essentially contributed to the decrease of maternal and newborn mortality ratio, it is a key component of the right to health & the route to equity and dignity for women and children.
5 May is the International Day of Midwives (IDM) and every year it celebrates the leadership and quality care that midwives contribute to the miracle of birth.
This year we celebrate the International Day of the Midwife, on 24 May through a conference following the global theme 'Midwives Leading the Way with Quality Care', organized by the Lao Midwife Association and supported by United Nations Population Fund (UNFPA)
Around 100 participants, including midwife representatives from all 17 provinces and other health professionals gather at Mittaphab Hospital in Vientiane today. Mainly to celebrate the IDM and to discuss technical issues to improve the Quality of Care such as the new WHO guideline on Respectful Care; the use of Partograph as part of intrapartum care; promoting exclusive breastfeeding, etc. To further strengthen the profession of Midwifery the participants also discuss the requirements for a midwifery license.
"Midwives play vital role in reducing maternal mortality which is crucial in the achievement of SDG 3 on Good Health and Wellbeing in the Sustainable Development Goals as well as contribute directly to the country's National Socio-Economic Development Plan (NSEDP), Universal Access to Quality Health Care Services." said Dr Niranh Phoumindr, Director of Department of Health Professional Education.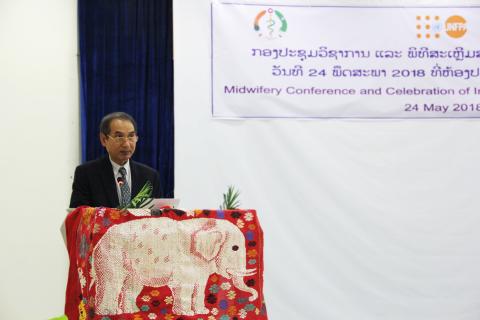 Globally over 340,000 women and over 3 million infants around the world die each year from preventable complications from pregnancy and childbirth. The majority of these deaths would be prevented if there were enough qualified and adequately resourced midwives available around the world.
"High-quality midwifery care for women and newborns saves lives and contributes to healthy families and more productive communities. Therefore, it is extremely important to focus on building and strengthening midwives' capacity, so that they meet the global quality standards set for midwives." Dr. Niranh added.
According to the Lao Social Indicators Survey 2017-2018 (LSIS II); at least one antenatal care visit to women aged 15-49 years by skilled health personal increased from 54.2 percent in LSIS I to 78.4 percent, postnatal care increased from 39.5 percent in LSIS I to 47.2 percent in LSIS II. Midwives have greatly contributed to these progressive results.
Since 2009, midwifery programme was brought to Lao PDR under Skilled Birth Attendance, UNFPA and many partners have been providing technical and financial support to Midwifery Programme. Currently there are more than 1794 practicing midwives in the country, by having midwives at the lowest level at health centers, close to the mothers and communities, they particularly help increasing access to quality care for rural populations.
"UNFPA firmly believes that well-trained midwives can help avert over 2/3 of all maternal deaths" said Ms. Frederika Meijer, UNFPA Lao PDR Representative.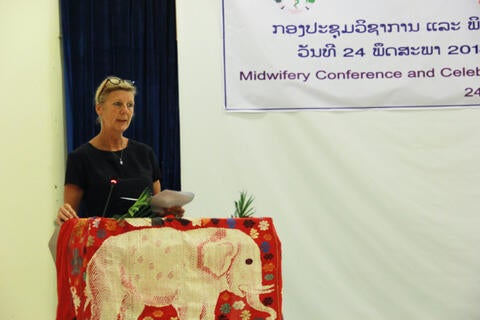 Furthermore, midwives are doing much more than delivering babies; they are crucial in providing sexual and reproductive health information and services. They can help women and men to plan their families and the midwife is critical in providing Noi – the adolescent girl- the information and services she needs to make an informed choice about her future Ms. Meijer added.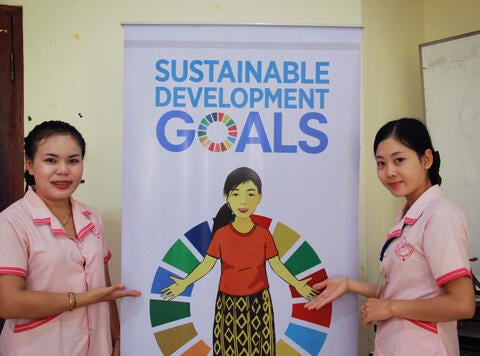 The event presents the history of IDM and several panel discussions from health experts exchanging knowledge with midwife professionals and students as well as showing a short video from midwife students talking about their motivation of choosing this career path.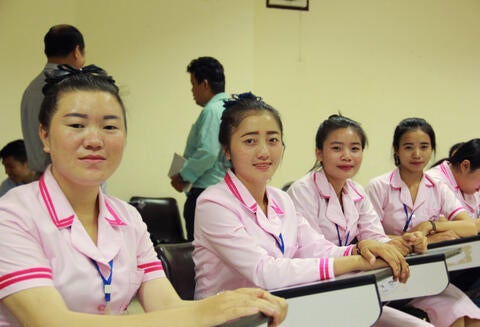 For more information, please contact UNFPA:
Ms. Kay amphone Singhalath
Tel: +856 21 267 680; Mob: 020 7777 6597
E-mail: Singhalath@unfpa.org