16 September 2019, Vientiane Capital— The Ministry of Health and United Nations Population Fund (UNFPA) in Lao PDR launch the campaign "Me, My Body, My Planet, My Future" to encourage and engage youth to take actions for the Sustainable Development Goals. It was supported by a diverse array of partners including BFL, Sinouk Coffee and China Radio International in Lao PDR. This campaign is also the theme of the upcoming Noi's 13th anniversary on the International Day of the Girl Child and is expected to be led onwards and grow through national partners and youth themselves.
Today's world is home to 1.8 billion young people, and they stand central to the 2030 sustainable development goals (SDGs), a vision the United Nations has set for the people, the planet and our common prosperity by 2030. Lao PDR has a young population structure, with nearly 60% are under the age of 25 years, representing a potential demographic dividend if greater investments are made to educate and empower the young people to be productive members of the society.
"We aim to engage the youth of Laos to take positive actions in achieving sustainable development in Laos." said Ms. Mariam Khan, UNFPA Representative in Lao PDR, "The future of the people, the planet and our collective prosperity depends on partnerships and collective action, that is why this is an exciting initiative as it brings together such an array of diverse partners working towards a common goal"
The campaign will kick off with raising awareness of SDGs among Lao youth, followed by actions led by youth on priority issues that matter to them most, including sexual and reproductive health, gender equality and climate change. In the next phase, UNFPA and partners will facilitate increased engagement of Lao youth and national policymakers in a diverse range of modalities.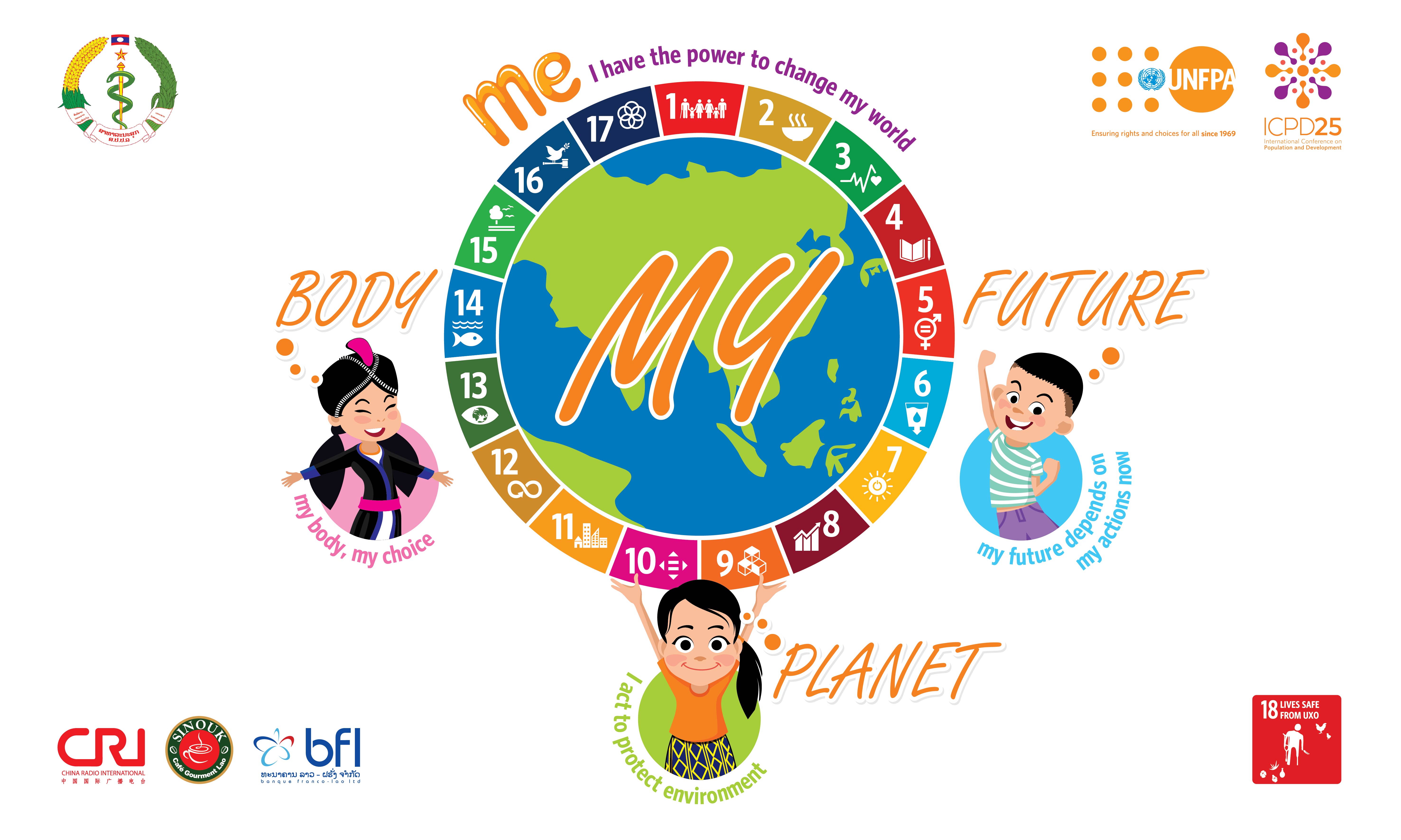 "The initiation of the campaign has involved multiple sectors recognizing the centrality of a people-focused intervention. The Government of Lao PDR through MoH, LYU and LWU have provided valuable contributions to the planning of the campaign and will contribute to its promotion." Said by Mr. Visith Khamlusa, Director of Centre of Communication Education on Health (CCEH), MoH. "We are pleased to see such a pioneering initiative that encourages young people in Laos to be involved more actively in the development of our country."
Participated by youth volunteers from Lao Youth Union and Vientiane Youth Center, they also shared their perspectives on the issues affecting young people, they committed to take charge of their lives and work actively as agents of change. The winner of the drawing competition from the International Youth Day, Ms. Aly Sidaphone said that "We, the young people should have the opportunity for better education, health, vocational skills, and empowerment, regardless of our gender, ethnicity or economic status. Being part of this campaign helps us gain confidence and valuable opportunities to be part of the efforts to achieve the SDGs' agenda in Lao PDR."
The campaign also brings together support from diverse partnerships as an important pillar for sustainable development. China Radio International (CRI) will provide strong support as an influential media player in Lao PDR, by maximizing the use of different media channels to engage with young people throughout the campaign. Private sectors such as Banque Franco-Lao (BFL), one of the key banks committed to making financial services accessible to small businesses, particularly Lao women, will expand the reach of campaign messages to the public through its extensive branches in Vientiane Capital and beyond. And Sinouk Coffee, one of the leading players in the coffee industry in Laos, made a strong commitment to promoting the campaign among its own staff as well as partners and clients in the supply chains.
For more information, please contact:
Ms. Kay amphone Singhalath
Telephone: 021 267 680
Email: Singhalath@unfpa.org website: lao.unfpa.org
Follow us on Facebook: UNFPA Laos, Twitter & Youtube: UNFPA Lao PDR