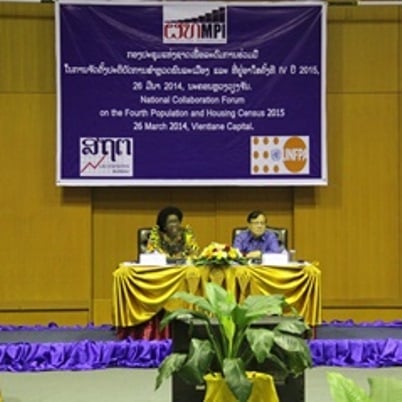 1 April, 2014, Vientiane – Dr Esther Muia, UNFPA Resident Representative visited the National Assembly, Ministry of Planning and Investment, Ministry of Health, Ministry of Educations and Sports and Ministry of Foreign Affairs from 1 to 4 April, for her completion of assignment in Lao PDR.
H.E. Mr. Somdy Douandy, Minister of the Ministry of Planning and Investment and vice-chair of the National/Central Census Steering Committee, call on all concerned parties to "assume the 4th Population and Housing Census 2015 as a national development priority. The data is crucial to measure the achievements of the implementation of the Millennium Development Goals, assess the implementation of the 7th National Socio-Economic Development Plan (NSEDP) and provide baseline for the development of the 8th NSEDP (2016-2020). Specifically, the PHC is the most important source of data for planning, monitoring, decision-making, policy formulation and demographic research, business, marketing, industry and labour. It is also crucial to prepare for the ASEAN Economic Community Integration and becoming a middle income country by 2020.  Therefore, I am calling for a support and assistance from development partners and the private sector within the country and aboard to help us ensure a timely and effectively success of the 4th Population and Housing Census".
The success of PHC 2015 will depend largely on the contribution and support from stakeholders. The Government for the first time committed to contribute 30% of the total budget. UNFPA, World Bank and Swiss Development Cooperation are on board to support this initiative. However, the funding gap remains around 45% which requires support from both the private sector and development partners.
According to the Lao Statistics Law, the Population and Housing Census is to be conducted on the 10-year basis by the Lao Statistics Bureau. The Census is the biggest and most important survey operation in Lao PDR.  A population census covers everyone in the country at the same time and serves as bench mark data on population and its characteristics. It provides a snapshot of the number of people and their demographic, social, cultural and economic characteristics as at the reference date for all administrative areas –country as a whole, district, city, town and village.
LSB is the organization which is assigned to oversee and implement the Population and Housing Census. The high-level steering committee and technical committee at the national, provincial, district and village level have been established. The National Census Steering Committee is chaired by H.E. Mr. Somsavath Lengsavath, Deputy Minister and members are ministers, vice ministers and provincial governors. A pilot census is scheduled on May 2014, while the actual census will take place during March 2015. The preliminary result of the census is expected to be released in the mid of 2015 while final results will be released in early 2016.