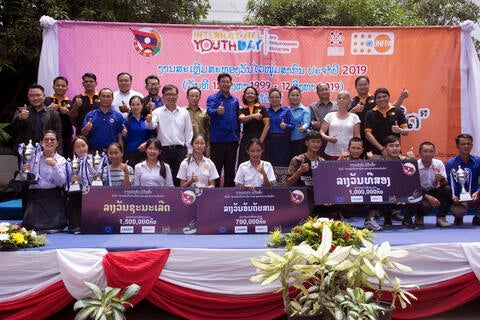 Young people from Lao PDR signed a commitment on accelerating the implementation of ICPD in Vientiane. As part of the celebrations of the International Youth Day 2019.
The youth committed to achieving the three transformative goals; Zero unmet need for contraceptives, Zero preventable maternal deaths, Zero gender-based violence and harmful practices and placing Noi- the adolescent girl at the heart of all efforts in Lao PDR. They vouched for working proactively to achieve the three transformative results and actively demanding from duty bearers to deliver on their commitments.
The event was attended by around 300 young people and youth leaders representing diverse groups of young people including adolescent boys and girls, young people with disabilities, LGBTIQ+, students, young health professional and youth volunteers.
An engaging panel discussion composed entirely of youth with adults listening, was also held. Quite rare in the Lao context where traditionally adults talk and youth listen. The young people discussed about transforming education and celebrated the achievements and progress made by Lao PDR in empowering adolescents and young people in the areas of education, health, employment, empowerment, participation and protection. In the vibrant discussion the youth shared possible solutions to the problems they encounter. Calls were made to place condom vending machines in spaces frequented by youth, more CSE; easily accessible skills training for job seekers and respect for the most vulnerable, especially the disabled and those from the LGBTIQ+ .
The new UNFPA strategy on adolescents and youth- "My Body, My Life, My World": Rights and Choices for All Adolescents and Youth was also launched at national level on this occasion jointly by Ms. Mariam A. Khan, UNFPA Representative, Mr. Alounxay Sounalath, Secretary General of Lao Youth Union and Youth Leaders.
Two consultations led by young people along with drawing and song writing competitions were also organized before the International Youth Day. These consultations and competitions provided opportunities to young people to deliberate on the areas of youth action and firm up their commitments towards accelerating the progress of ICPD PoA in Lao PDR.
______________________________________________________________________________
UNFPA is the United Nations reproductive health and rights agency. It is the leading agency for delivering a world where every pregnancy is wanted, every childbirth is safe and every young person's potential is fulfilled. UNFPA promotes sexual and reproductive health and rights, particularly maternal health, in over 150 countries, as well as working to end harmful practices such as child marriage, and supporting population data collection and analysis.
For more information, please contact:
Ms. Kay amphone Singhalath
Telephone: 021 267 680
Email: Singhalath@unfpa.org website: lao.unfpa.org
Follow us on Facebook: UNFPA Laos, Twitter & Youtube: UNFPA Lao PDR