Nairobi, Nov 13, 2019— The delegation from Lao PDR announced a package of national commitments to the acceleration of the Programme of Action of the International Conference on Population and Development Programme of Action (PoA, ICPD) and 2030 Agenda for Sustainable Development at the Nairobi Summit on ICPD25  this week.  
From 12-14 November, the governments of Kenya and Denmark and UNFPA are co-convening the Nairobi Summit on ICPD 25, a high-level conference to mobilize the political will and financial commitments to further advance the ICPD PoA. These commitments will be centred on achieving zero unmet need for family planning information and services, zero preventable maternal deaths, and zero sexual and gender-based violence and harmful practices against women and girls.
This Summit convenes over 6000 participants from 160 countries who are committing to accelerate the unfinished business on the 25th anniversary of the groundbreaking ICPD. In 1994, ICPD marked a global consensus to put individual dignity and rights at the very heart of development, including sexual and reproductive health and rights. Heads of State, senior officials, parliamentarians and representatives from non-governmental and civil society organizations and young people, gathered at the Nairobi Summit to celebrate the progress made and renew commitments accelerate delivery on ICPD.
On behalf of Lao PDR, H.E Mme. Bouachanh Syhanath, Vice President of Lao Women's Union, acknowledged the progress made especially for women and girls in terms of infrastructures and rights protection since the adoption of the ICPD PoA. She also recognized the remaining challenges.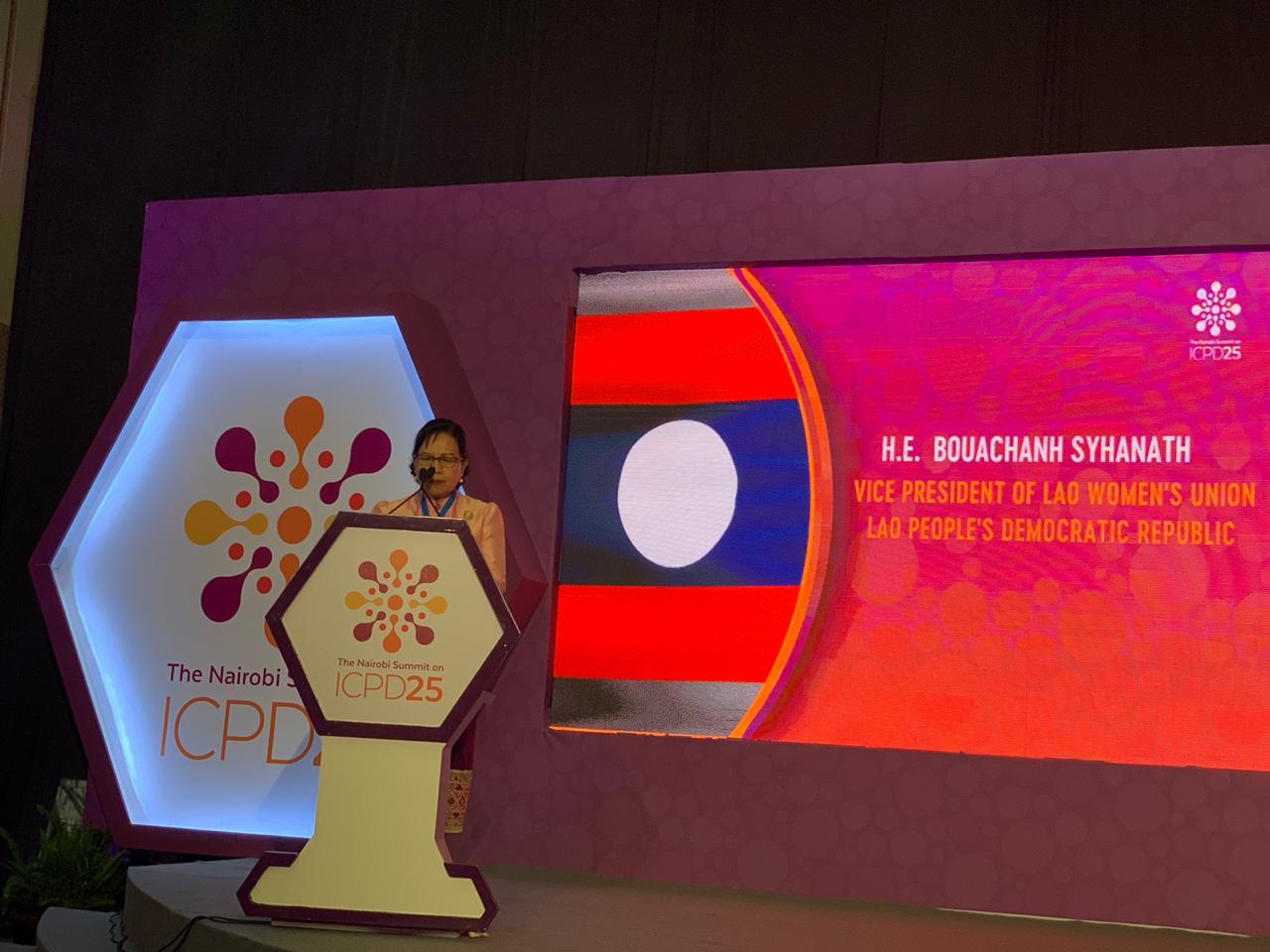 "Lao PDR's pathway to success is through human development. We must adhere to the ICPD PoA's emphasis on investing in the well-being of all segments of the population as an imperative for equitable and sustainable development," H.E. Syhanath stressed at the Nairobi Summit.
The 7 commitments included: Use population Data and projections in the 9th five year National Socio-economic development plan. By 2030, End MMR, end unmet need for family planning, including among adolescent girls and end GBV and harmful practices such as early marriage. Ensure youth receive age-appropriate comprehensive sexuality education through school curriculums nationwide.  Finalize and implement policies and Gender Law.  Increase investments for adolescents, especially young women through the "Noi framework" and "Noi ecosystem". The Government of Lao PDR also strongly supported the Nairobi statement on ICPD25: Accelerating the promise.
The landlocked, mountainous country of Lao PDR is home to 7.1 million people from 50 ethnic groups, with two-thirds of the population living in rural areas. Fifty-eight percent of Lao people are under the age of 25 years, among them, over 700,000 are girls aged 10-19. While still being a Least Developed Country (LDC), Lao PDR has achieved high economic growth over 6 percent in recent years as well as all-round improvements in social sectors. In Nairobi, the Lao delegation discussed with UNFPA Deputy Executive Director and Assistant Secretary-General Ms. Laura Londen, the next steps in the delivery of ICPD in Lao PDR.  
Lao PDR adopted the ICPD Programme of Action (PoA) in 1994 and since then integrated the implementation of ICPD PoA in the National Social Economic Development Plan (NSEDP), sectoral plans as well as in the localization of Sustainable Development Goals (SDGs).
At the Nairobi Summit, Lao PDR pledged strong support to the Nairobi Statement and reiterated its commitments to further advance the ICPD PoA and 2030 Sustainable Development Agenda. The national commitments from Lao PDR included specific targets and plans of programme actions towards ensuring rights and choices for all in the country, as well as legal and policy actions to integrate population dynamics and harness population dividends through greater investments in youth and adolescents which take up more than half of its population.
Ms. Mariam Khan, UNFPA Representative in Lao PDR, expressed heartfelt appreciation of the Lao government's commitments on accelerating the ICPD promise in the era of the SDGs. "Using the ICPD people-centered approach, UNFPA will continue to support Lao PDR, particularly the most vulnerable, including adolescent girls and boys to ensure that no one is left behind, said Ms. Khan.
New partnerships for ICPD with the private sector, media as well as young people for innovative and empowering solutions to reach the most vulnerable are rolling out.
For the full text of national commitments to ICPD25 at Nairobi Summit: https://www.nairobisummiticpd.org/commitments
For more information, please contact us.
Mr. Sysomporn Phethdaoheuang,
Deputy Director of Department of International Cooperation, Ministry of Planning and Investment.
Tel: 020-28037206 / Email: Sysomphorn.dic@gmail.com
Ms. Mijung Kim
Youth and Communication Assistant, United Nations Population Fund (UNFPA)
Tel: 021-267680/ Email: mijung@unfpa.com