Every day in Lao PDR, more than two women die because of complications during pregnancy and childbirth. For every woman who dies many more suffer from illness or disability from complications during pregnancy or childbirth. Most of these deaths and illnesses can be prevented when mothers have access to skilled care at birth.
As part of the strategy to reduce maternal mortality in Lao PDR, the Ministry of Health (MoH) with support from the United Nations Population Fund, (UNFPA) and other development partners, specifically UNICEF WHO and the World Bank, is implementing the National Skilled Birth Attendance (SBA) plan that supports the delivery of the national Integrated Package of Maternal, Neonatal and Child Health Services. Specifically the SBA plan includes production and deployment at community level (Health Centre and Hospital Type-B) of trained professional Midwives that are currently being produced in 7 Provincial health schools all over the country.
Normally, all over the world, the International day of the Midwives is celebrated on 5th May each year, but in Laos, in order to ensure that all provinces can take part in the celebrations, MoH have designated the whole month of June as the "Month of Midwives", because in June the country will see the graduation of the second batch of community midwives. Over the whole month, MoH in collaboration with UNFPA and other development partners is organizing a number of events, the first of which was in Luang Namtha on June 7th, where a health promotion day for mothers and babies in Viengphouka District was held. Two other events are in Savannaketh on 15th and Oudomxay 22nd June, where MOH will present the graduating midwives from the south and north respectively, their certificate of licence to practice as a midwife.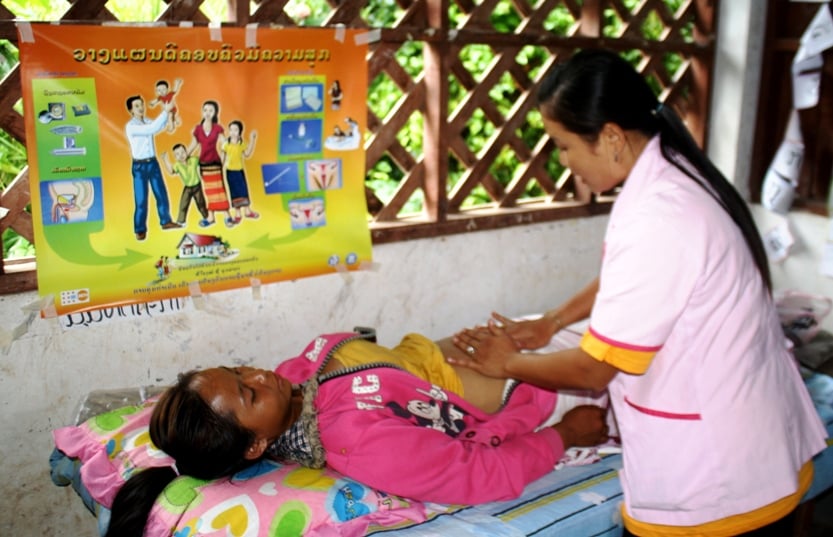 All activities are focused on keeping mothers and babies safe and healthy through access to birth spacing, use of professional midwives before, during and after pregnancy and childbirth and ready access to emergency obstetric care. To make this possible, it is acknowledged that midwives working at the community level must have an unbroken supply of essential supplies and medicines, and must work closely with the community, especially village leaders, in order to promote the key messages and to encourage more men to take proactive action to save the lives of their wives, mothers and daughters.
The main event of the month was the celebration in Savannaketh. The High-level event in Savannaketh on 15th June, saw MoH award the national midwifery certificates of accreditation of competences to the 80 midwives in second batch trained in Khammouane, Champasack and Vientiane Province. The event brought together senior level officials from MOH at central and Provincial level, including the Vice Minister, Associate Prof. Dr. Som Ock Kingsada, as well as representatives from key line ministries such as the Ministry of Planning and Investment (MPI) and the Ministry of Education and Sports, as well as the Lao Women's Union and government officials from UN supported districts.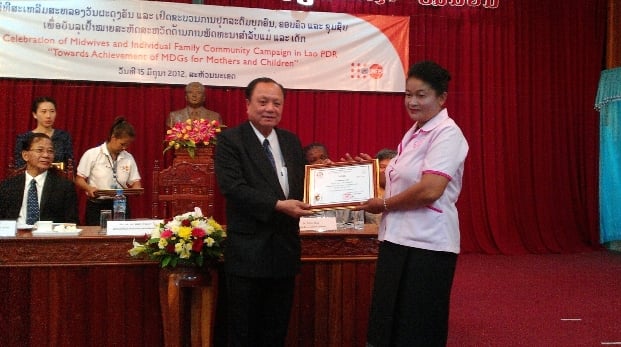 "Midwives can provide much more than family planning and skilled care at birth. They can be the link between the community and the health services. They can work together with local leaders to plan and implement actions to improve the quality of life in the community. They can save mothers and babies lives. If people make use of their services, if communities provide them with support and information and local leaders involve them in the planning and decision-making, Midwives can help to make healthier and more productive communities. The work of midwives is the foundation for healthy families, healthy communities and a prosperous nation" said Dr. Esther Muia, UNFPA Representative.
The Vice Minister of Health, Associate Prof. Dr. Kingsada said "In many parts of the world, and now in Lao PDR, midwifery is seen as a very important and gratifying profession. This is why we would like to encourage educated girls and women from the community to consider becoming midwives. We would also like to ask the community and its leaders to identify and encourage girls in particular to become midwives. Every community needs to have its own professional midwife to work with community leaders, families and individual women and adolescent girls to improve knowledge of safe pregnancy, childbirth and care of mothers and babies after birth, but also to provide quality services"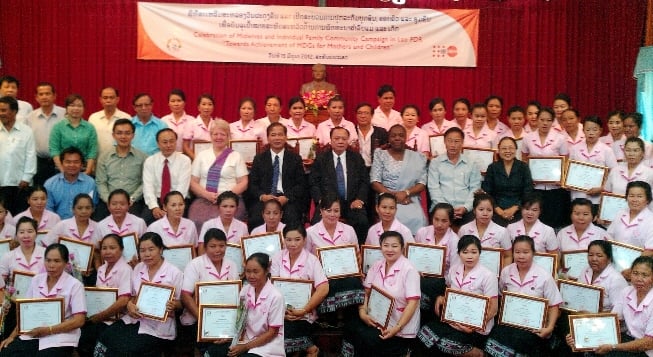 During the event a 15 minutes documentary about the Community Midwives Programme in remote areas of Lao PDR was presented. The video, recorded in Xiengkouang Province and produced by UNFPA's Asia Pacific Regional Office in collaboration with the Country Office Lao PDR, shows how having skilled birth attendants is helping to improve the health of mothers and babies in these communities.
The training of community midwives is part of the Joint Maternal, Neonatal, Child Health and Nutrition (MNCHN) programme developed and implemented by the MoH and the United Nations. This programme combines the skills and expertise of UNFPA, UNICEF, WFP and WHO and is made possible through a co-financing agreement of more than 8-million euros over five years between 2011-2015, signed between the Grand Duchy of Luxembourg, MoH and the UN.
Contact information: 
Diego De La Rosa, Tel.: (+856 21) 315547, Mobile: (+856) 20 59936509, drosa@unfpa.org