Vientiane, 23 May 2022. Sengchanh, Seo, Mone, Loy and Phouvieng are five young women from Sepone District, Savannakhet Province. They have arrived at Crowne Plaza Vientiane where they will train for 03 months at the hotel and Pakpasak Technical College to acquire vocational skills in food products preparation,  strengthen their  financial literacy and learn basics of marketing. They will leave, ready to establish their own income generation activities back in Sepon. 
This initiative is thanks to partnership between the United Nations Population Fund (UNFPA) and Crowne Plaza as part of the UNFPA work with the Ministry of Education and Sports (MoES) for the comprehensive "Noi ecosystem". The Noi framework engages the private sector for sustainable economic development in Lao PDR, focusing on empowerment of adolescent girls and young women.  
Ms Mariam Khan, UNFPA Representative to Lao PDR said: "There are over 700 000 adolescent girls in Laos, each has the potential for entrepreneurship, to contribute to Laos' economic growth. Innovative public private partnerships like the one between MOES, Crowne Plaza and UNFPA accelerates community investments and changes lives for sustainable development"  
As part of the 10 year responsible business plan "Journey to tomorrow" of InterContinental Hotels Group (IHG), Crowne Plaza Vientiane partners with UNFPA Laos to support the Noi 2030 framework on empowering adolescent girls and young women. The first batch of participants in this skills training will learn seasonal fruit processing, financial literacy and basic marketing to enable them to create their own income-generating activities. Crowne Plaza will facilitate product placements and market access once they start production so they can rapidly gain financial independence.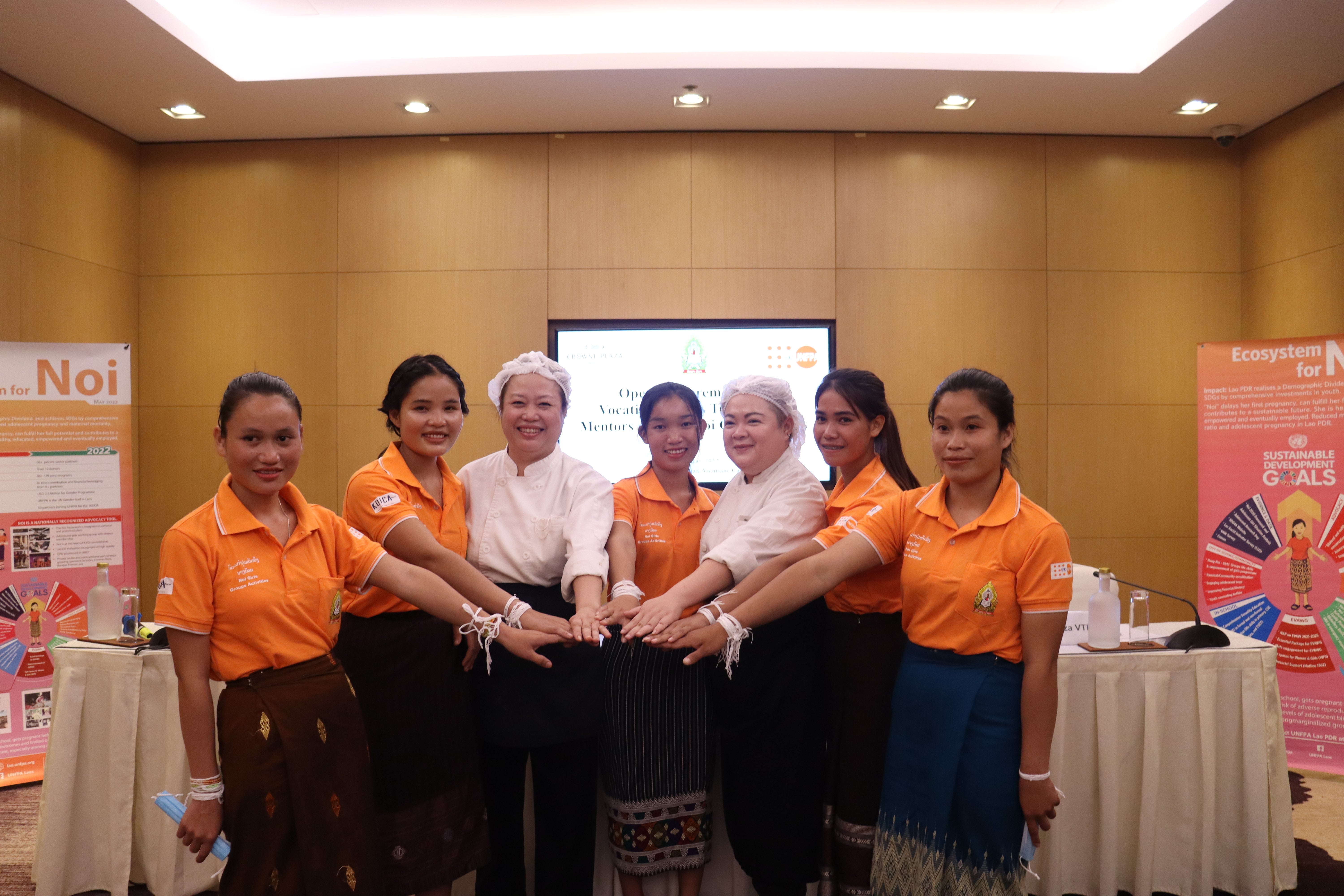 Photo 2: Nang Noi girls with their mentors from Crowne Plaza team. Photo by: sisavath/UNFPA Laos.
Ms Patria Puyat, General Manager of Crowne Plaza Vientiane expressed her full support to UNFPA work and mandate saying: "we believe in youth. They are the future so we stand by them to help them build their skills and believe in themselves. This is only the beginning and more girls will receive support to dream of a better future" 
Lao PDR within Asean, has the highest proportion of early marriage and highest adolescent birth rate. Nearly 1 in 5 girls aged 15-19 are married and more than 1 in 10 have begun childbearing. This combined with high rates of school drop outs further exacerbated by COVID-19, leaves girls with reduced future opportunities.
 Mr. Visanh Somphong, Deputy Director General, Non-Formal Education Department, MOES said: "This partnership with UNFPA and Crowne Plaza supports the education development plan and a precious occasion to promote the efforts on gender. Through vocational training, Nang Noi girls, even though they are out of school, can still learn, enjoy and share when they are back to their villages".
The Noi ecosystem sheds light on the urgent need to invest in adolescents. Over 80,000 new job seekers enter the labor market annually in Laos, they are the adolescents who require skills, confidence and opportunities now. The Noi framework, endorsed by the Lao Government and supported by  civil society, bilaterals, media and private sector, helps adolescent girls, boys and their families support girls to stay in school and be empowered and break the cycle of poverty. 
Sengchanh is 20 years old, one of the trainees, was living with her grandmother since she finished lower secondary grade 3, is excited and said"I am extremely happy and grateful for the opportunity you are giving to me. It is the first time for me to visit Vientiane Capital and be in such a great place such as Crowne Plaza Hotel to acquire cooking skills. I will do the best I can to complete my knowledge and utilize it in the future"
For more information please contact:
Syvongsay Changpitikoun
Programme Analyst - Adolescent Sexual and Reproductive Health, UNFPA Laos
Email: chanpitikoun@unfpa.org
Fatima-Zahra Benyahia Sablonnière
UNV Partnership and Innovation Specialist, UNFPA Laos
Email: fbenyahia@unfpa.org