01 November 2022, Vientiane, Lao PDR – The Lao Tropical and Public Health Institute (Lao TPHI) and the United Nations Population Fund (UNFPA) organised the seventh Annual Adolescent Research Day in Vientiane Capital under the theme "Promoting Adolescent Health and Development in the post-COVID-19 context". This event highlighted recent research evidence on adolescent health and development in the post COVID-19 context from Lao PDR and other countries in the region.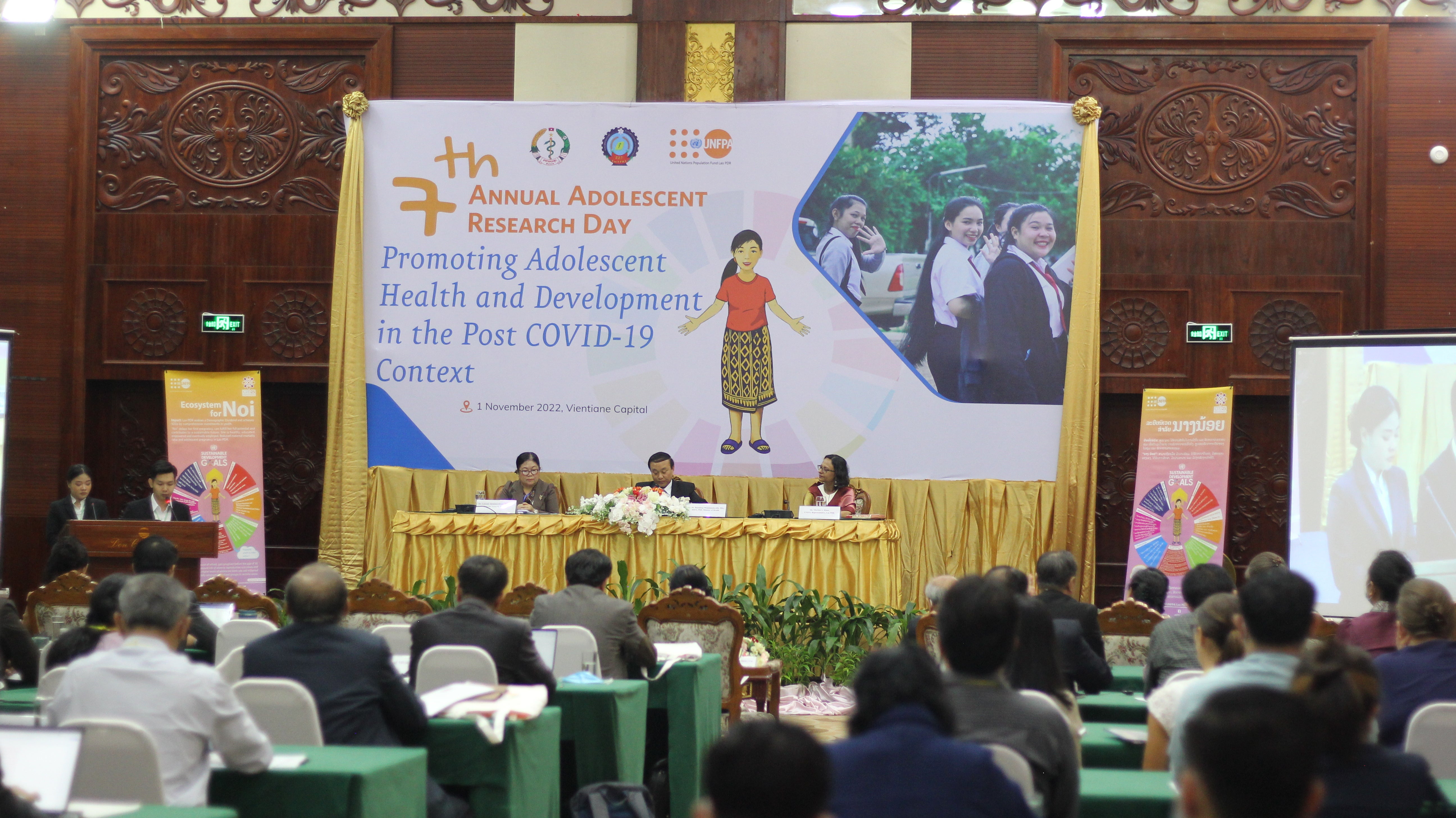 The annual ARD was initiated in 2016 under the 'Noi Approach' by the Lao TPHI and UNFPA. The ARD is held annually as a platform for researchers, practitioners, policy-makers and development partners to share recent research evidence. The goal is for research evidence to be used in advocacy, in formulating policies and comprehensive interventions vital to achieving well-being of all adolescents.
Dr. Bounfeng Phoummalaysith, Minister of Health welcomed national and international researchers and emphasized the importance of data and research to understand the impact of COVID-19 on adolescent health and wellbeing. He said "research findings help shape evidence based policies and programs to promote adolescents development. Research findings help to adapt existing work and measure the success of health programs in Lao PDR. Research is key to accelerate the implementation of national priorities, ICPD25 and SDGs"
This year's theme, "Promoting Adolescent Health and Development in the post-COVID-19 context", will share way forward in recovery from the unprecedented challenges posed by COVID-19 and made worse by the economic slowdown. Over half of Lao's population is under 25 years. There is a unique opportunity to benefit from demographic dividend, if adequate investments are made for adolescents to be actors in recovery efforts from COVID-19. Adolescents are critical human capital for the country's sustainable economic growth.
Ms. Mariam A. Khan, UNFPA Representative, said: "Research knowledge  is a public good to be used for addressing social issues and vulnerabilities that adolescents face. I hope the finding can be used by development practitioners to improve services geared towards Lao's youth".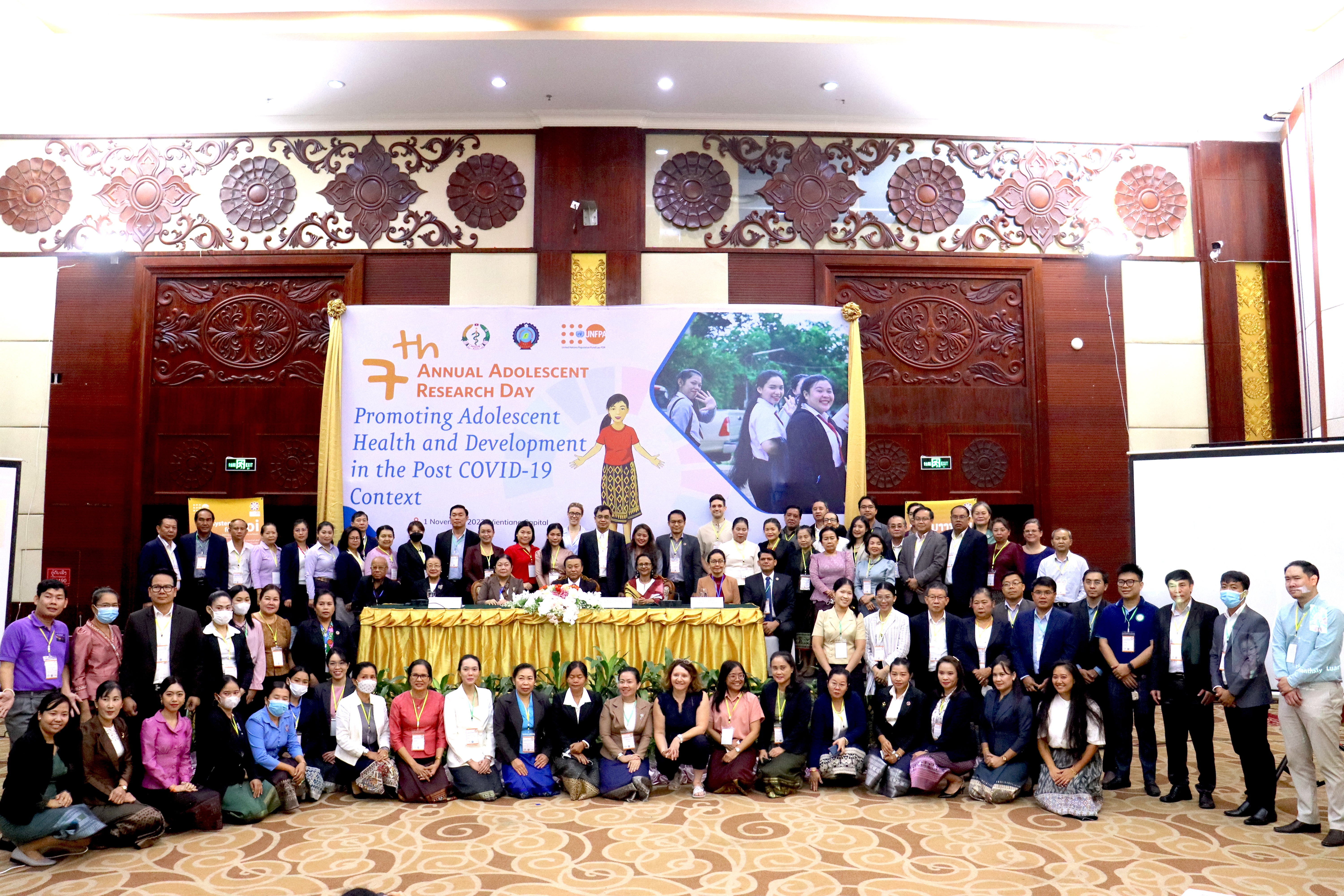 The adolescent research forum had in-person and virtual presentations from Lao PDR and the South-East Asia Region. Dr. Latsamy Siengsounthone, Director General of Lao TPHI, said,"The adolescent research day is an opportunity for both researchers and policy makers to listen and exchange on key elements that drive the socio"economic development of adolescents. Scientific meetings bring insights on gender equality, sexual and reproductive health and rights, education and employement of adolescents to guide decision-making in the future ."
The researchers and practitioners attending this forum discussed issues, solutions, strategies and good practices on adolescent health and development specifically in the post-COVID-19 context for building back better by focusing on adolescents and young people. 
***************
UNFPA, the U.N.'s sexual and reproductive health agency, works in over 150 countries, including Lao PDR, to achieve zero maternal deaths, unmet family planning needs, and zero gender-based violence.