Ensuring rights and choices for all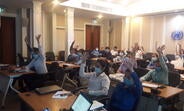 26 May 2020
Youth volunteers trained for empowering Lao adolescents and young people.
Vientiane, 26 May.2020 - Lao PDR currently has over 2.07 million young people in the age group of 10 to 24 years. This large group of young people can significantly contribute to the social and economic development of a sustainable future for the country. Their potential can be harnessed if they are equipped with correct
26 May 2020
Engaging men and boys for a more equal post-COVID-19 society
UNFPA Lao PDR Representative Mariam Khan explains how a post-COVID-19 world has an opportunity to achieve gender equality more than ever.   Did you know that in Lao People's Democratic Republic, on average, the time a woman spends on housework, child care, caring for the sick can be as much as four times more than men? This
18 May 2020
Noi Yakhoo Mobile App: Keeping Lao youth healthy and safe!
Vientiane, 18 May 2020- The Centre for Communication and Education on Health(CCEH), Ministry of Health with support of UNFPA developed a mobile application "Noi Yakhoo" to increase access of adolescents and young people to technically accurate and high quality basic sexual and reproductive health information and to develop

SAVING LIVES, SAVING MONEY: Financing Family Planning Commodities in Lao PDR

Remarkable gains have been made in sexual and reproductive health and rights since 1969...