Ensuring rights and choices for all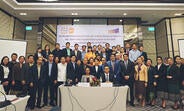 31 October 2018
Lao PDR welcomed UNFPA's new country Representative
Vientiane Capital, Lao PDR – the newly appointed United Nations Population Fund (UNFPA) Representative in Lao PDR, Ms. Mariam A. Khan presents her letter of credential to Mr. Sengphet Huangbounyuang, Deputy Minister of Foreign Affairs, on behalf of the Government of Lao PDR. Ms. Khan, comes to Laos with over 20 years of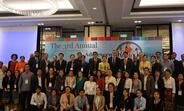 15 October 2018
Third Annual Adolescent Research Day (ARD) held in Vientiane Capital
15 October 2018, Vientiane Capital - The 3rd Annual Adolescent Research Day (ARD) held at Hotel Crowne Plaza, Vientiane Capital on Monday 15October, 2018 led by the Lao Tropical and Public Health Institute (Lao TPHI), with support from United Nations Population Fund (UNFPA) and Medical Committee Netherlands– Vietnam (MCNV).
The Lao Social Indicator Survey II (LSIS II) was carried out in 2017 by Lao Statistics...

The 2030 Agenda for Sustainable Development aims for equitable and inclusive development...