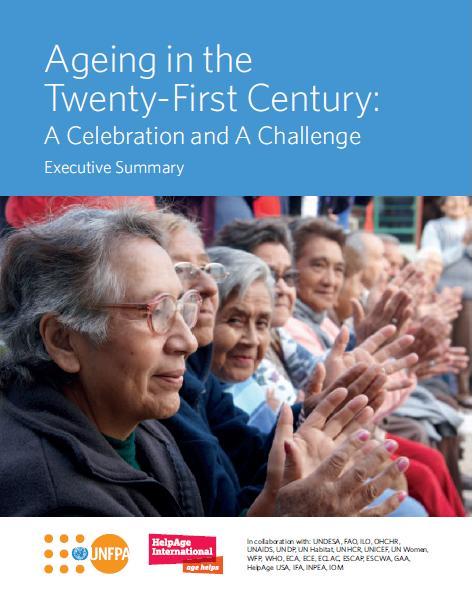 TOKYO - The number of older persons is growing faster than any other age group, says a new report, Ageing in the Twenty-first Century: A Celebration and a Challenge, released today on International Day of Older Persons by UNFPA, the United Nations Population Fund, and HelpAge International.
The new report underlines that, while the trend of ageing societies is a cause for celebration, it also presents huge challenges as it requires completely new approaches to health care, retirement, living arrangements and intergenerational relations.
The Executive Summary of the report has been translated into Lao Language and its available online.
In 2000, for the first time in history, there were more people over 60 than children below 5. By 2050, the older generation will be larger than the under-15 population. In just 10 years, the number of older persons will surpass 1 billion people-an increase of close to 200 million people over the decade. Today two out of three people aged 60 or over live in developing countries. By 2050, this will rise to nearly four in five.
If not addressed promptly, the consequences of these issues are likely to take unprepared countries by surprise. In many developing countries with large populations of young people, for example, the challenge is that governments have not put policies and practices in place to support their current older populations or made enough preparations for 2050.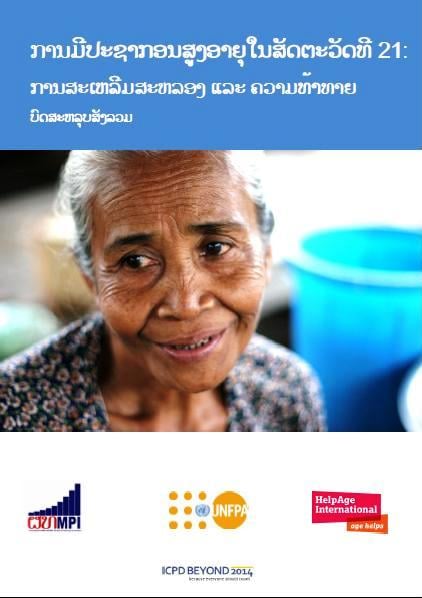 Speaking at the report's launch in Tokyo, UNFPA Executive Director, Dr. Babatunde Osotimehin, said: "People everywhere must age with dignity and security, enjoying life through the full realization of all human rights and fundamental freedoms."
"Longer life expectancy," he added, "was a goal of the Cairo International Conference on Population Development in 1994. More action needs to be taken to achieve this for all people; new poverty goals must not exclude older people."
Important progress has been made by many countries in adopting new policies, strategies, plans and laws on ageing, according to the report. For example, over 100 countries in the last decade have put in place non-contributory social pensions in recognition of old age poverty. But much more needs to be done to fulfill the potential of our ageing world.
Forty-seven per cent of older men and nearly 24 per cent of older women participate in the labour force. Yet, despite the contributions that a socially and economically active, secure and healthy ageing population can give to society, the report also notes that many older persons all over the world face continued discrimination, abuse and violence. The report calls for governments, civil society and the general public to work together to end these destructive practices and to invest in older people.
The report also includes the stories of 1,300 older men and women who participated in group discussions in 36 countries around the world. Their first-hand accounts and testimonies add the perspectives of the older population supporting efforts for better understanding and immediate action to meet their needs.
Richard Blewitt, Chief Executive Officer of HelpAge International, said: "We must commit to ending the widespread mismanagement of ageing. Concrete, cost effective advances will come from ensuring age investment begins at birth - fully recognizing the vast majority of people will live into old age. Global and national action plans are needed to create a pathway to transform the explosive number of people over 60 to become growth drivers and value creators. By revolutionizing our approach and investing in people as they age we can build stronger, wealthier societies. Social protection and age friendly health care are essential to extend the independence of healthy older people and prevent impoverishment in old age."
"These actions," added Mr. Blewitt, "should be based on a long-term vision, and supported by a strong political commitment and a secured budget."
"Ageing is a lifelong process that does not start at age 60. Today's young people will be part of the 2 billion-strong population of older persons in 2050," said Dr. Osotimehin. "This report shows that, with actions taken now, we can all benefit from the longevity dividend- increasingly in the developing world - now and in the future."