South-South Trilateral Cooperation focused on strengthening National Midwifery Educators Capacity 2015-2017
Vientiane Capital – Department of Health Professional Education (DHPE), Thailand International Cooperation Agency (TICA) through Khon Kaen University (KKU) and United Nations Population Fund (UNFPA) held a meeting to summarize the achievements of 3 years of South-South Trilateral Cooperation (SSTC) on strengthening capacity of midwifery educators in Lao PDR. The meeting was followed by fruitful discussions by implementing partners, development partners, donors, policy makers, planners and midwives at Donchanh Palace Hotel.
This South-South Trilateral Cooperation is an initiative of partnership of Thailand International Cooperation Agency (TICA) under Ministry of Foreign Affairs of Thailand, Department of Health Professional Education under Ministry of Health of Lao PDR and UNFPA. It aims to support Lao PDR in adopting the International Confederation of Midwifery (ICM) standards, recognized by the World Health Organization (WHO) and adopted by UNFPA as international requirements of midwifery core competencies towards the reduction of maternal and newborn deaths in Laos.
Currently, there are 1,700 trained midwives working in remote areas across Lao PDR. With the increasing number of midwives, Lao PDR has seen a steady decrease in maternal mortality ratio (MMR) throughout recent years. The ratio dropped from 357 per 100,000 live births in 20121 to 206 per 100,000 live births in 20152, surpassing the target set under the Millennium Development Goals. 
However, some challenges still remain. Findings from a monitoring visit showed that most of the application of knowledge and skills that the trained teachers achieved were learned from either clinical or workshop courses, which meant that more hours need to be dedicated to clinical placements.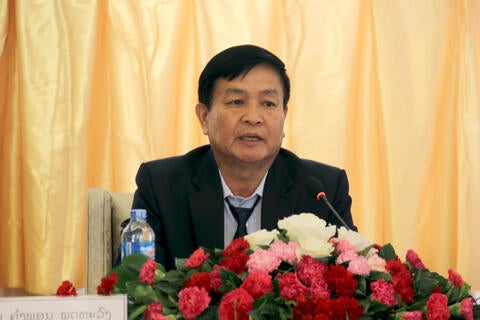 Mr. Khamphone Phoutthavong, Vice Minister of Health
"As we all know, teachers are the molders of human resource development and thus the key to meeting the needs of the health sector. In order to have quality students, we need to focus on strengthening our teachers' capacity in alignment with the National Social-Economic Development Plan. After graduation, these students will become qualified midwives who are strong in their subject area, have strong moral values, and are able to provide quality care that is received well and accepted by their community," said Mr. Khamphone Phoutthavong, Vice Minister of Health at the closing.
By collaborating with Thailand, cultural and language barriers are minimized, whereas emphasis can be put on the two countries' common traditions and cultures. Thailand has been able to support neighboring MOH partners with technical assistance on Maternal Health, and to assist with networking with other countries in the region as well as establishing links with TICA.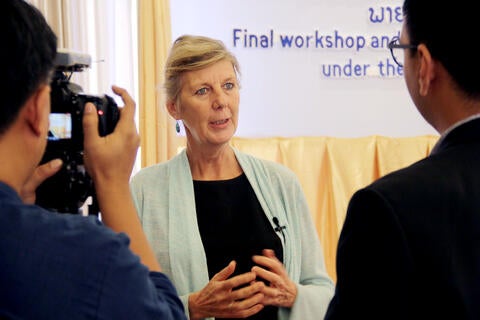 Ms. Frederika Meijer, UNFPA Representative in Lao PDR
Ms. Frederika Meijer, UNFPA Lao PDR Representative said: "We know that implementing quality midwifery services could prevent about 2/3 of women's and newborns' death globally". In fact, it helps end preventable child and maternal deaths and gives healthier families and communities. 87% of the essential care for women and newborns can be performed by a competent and educated midwife. "UNFPA is ready to provide support to implement the Midwifery Improvement Plan and contribute to the reduction of Maternal Mortality Ratio through the deployment of quality midwifery workforce", she added.
This programme included a six month-training for 42 midwifery educators, and four-month for 10 midwifery education administrators provided by Khon Kaen University (KKU) and Tailor-made curriculum for midwife educators developed based on ICM/WHO standards.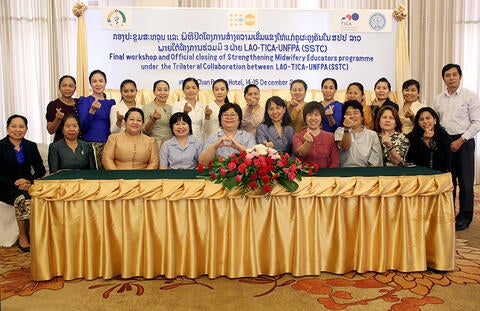 (1)   The Lao Social Indicator Survey (LSIS) 2011-2012: http://bit.ly/2Cmdq1B
(2)   Population and Housing Census 2015: http://bit.ly/2j51w3G
---
For more information, please contact:
Department of Training: Ms. Sengmany Khambounheuang
Tel: +856 21 263 899, E-mail: Ksengkham@yahoo.com
UNFPA: Ms. Kullwadee Kai Sumalnop (Thailand)
Tel: +66 2 687 0130, E-mail: Sumalnop@unfpa.org
Ms. Kay amphone Singhalath (Lao PDR)
Tel: +856 21 267 680, E-mail: Singhalath@unfpa.org