More and more partners join the efforts to invest in Adolescent girls for the achievement of the 2030 Development Agenda
Vientiane Capital – Adolescent girls were the center of dialogue between multiple-stakeholders from different sectors to strengthen partnership and increase investment in adolescent girls for the achievement of the 2030 Development Agenda.
The event took place at Crowne Plaza, led by Lao Women Union (LWU) in collaboration with Ministry of Planning and Investment (MPI) and supported by United Nations Agencies, European Union and Civil Society Organizations in Lao PDR.
Under the theme "The Power of the Adolescent Girl: Vision for 2030" Lao PDR focuses on the importance of empowering adolescent girls in order to achieve the Sustainable Development Goals (SDGs) by 2030.   The event included a panel discussion as well as presentations that showcased the progress after launching Noi.
This year marks the first anniversary of Noi. Last year, she was created by the United Nations Population Fund (UNFPA) and partners to increase dialogue and raise awareness on issues of adolescent girls as well as draw attention to the unfinished MDG agenda for adolescent girls. Noi's first year has been successful. More people and more agencies are aware of the importance to invest in girls and that a holistic, multi-sectoral approach is necessary to make girls part of the development agenda and enable Noi to develop to her full potential.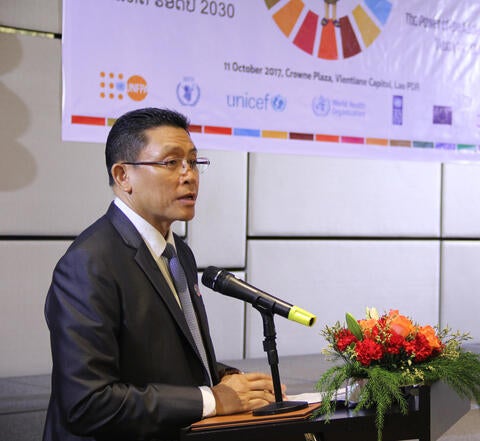 H.E. Dr. Kikeo Chanthabuly
H.E. Dr. Kikeo Chanthabuly, Vice Minister of MPI said: "Adolescence is the road to adulthood, it is a crucial period in a girl's life time. When adolescent girls are physically and mentally healthy, they can fully exercise their rights and be empowered. It is a key to Lao's social and economic development as well as government's target to LDC graduation by 2020."
Noi represents 700,230 adolescent girls in Lao PDR aged 10-19 years old. Research shows that adolescent girls in Lao PDR continue to suffer from disadvantages, discrimination and exclusion. More than 1 in 20 adolescent girls have never attended school, 1 in 5 adolescent girls have dropped out of school, nearly 2 in 10 girls aged 15-19 are married and more than 1 in 10 girls aged 15-19 have begun childbearing. Access to quality health services, education and having job opportunities remains challenging for them.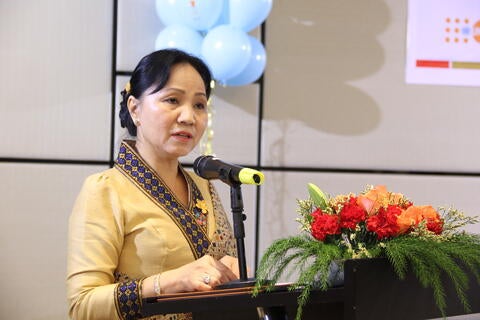 H.E. Ms. Inlavanh Keobounphan
H.E. Ms. Inlavanh Keobounphan, President of Lao Women Union said: "In order to ultimately achieve Sustainable Development Goals (SDGs) and for the country to graduate from LDC status, all girls' potential need to be realized. A girl must have equal rights and opportunities to fully develop herself and be able to contribute to community development as well as to country as a whole."
UNFPA's Deputy Regional Director, Dr. Jennifer Butler on her first trip to Lao PDR, praised the Government and Development Partners on this unique and creative approach towards addressing the needs of adolescent girls. She said that Lao PDR is probably the first country in the world which has established such a great partnership for Noi & SDGs.  
The UN Resident Coordinator Ms Kaarina Immonen, talked about the so-called Noi 2030 framework, a framework of localized Sustainable Development Goals, in which a set of targets and indicators specifically for adolescent girls will be chosen for Lao PDR.
Through this Noi 2030 framework, all partners can take stock of the progress made. Gaps can be identified in areas where progress is slow. She said: we want to ensure that no girl is left behind. Ideally this would be a chapter or an annex in the first Voluntary SDG report that Lao will present next year. The Noi 2030 Framework can act as a baseline to monitor and visualize the specific progress of adolescent girls within the SDGs.
The Noi 2030 framework allows different agencies, units and organizations to identify relevant programming for Noi within the SDG agenda. Each year, on the International Girl Child Day, we can take stock of the progress and see whether we are on track to achieve the SDG s for Noi.
The first panelist H.E. Mr. Leo Faber, EU ambassador to Lao PDR, reiterated that working towards gender equality is crucial for a countries' development, and all the support provided by the EU globally is assessed against gender indicators within the different projects and programmes. Therefore, the Noi 2030 framework is a wonderful tool to jointly support investments in adolescent girls and a unique example for the world 
Ms. Frederika Meijer, UNFPA Representative said: "Since last year, Noi has made a lot of friends within the capital and in provinces around the country, and even outside the Country. I truly believe that once issues around adolescent girls are dialogued among all partners and with the girls themselves, the achievement of the Sustainable Development Goals are really within our reach. Enabling and allowing Noi to develop to her full potential will benefit everyone" 
The event aimed to emphasize the importance to bundle and align all investments assisting adolescent girls through multi sectoral partnerships and calls for a stronger focus on adolescent programming across sectors. To put together multi-sectoral efforts that is necessary to bring in change for adolescents and reaffirm their commitment not to leave Noi behind.
For more information, please contact:
Ms. Kay amphone Singhalath
Tel: 021 267 680
Email: Singhalath@unfpa.org