UNFPA's support to Women's Health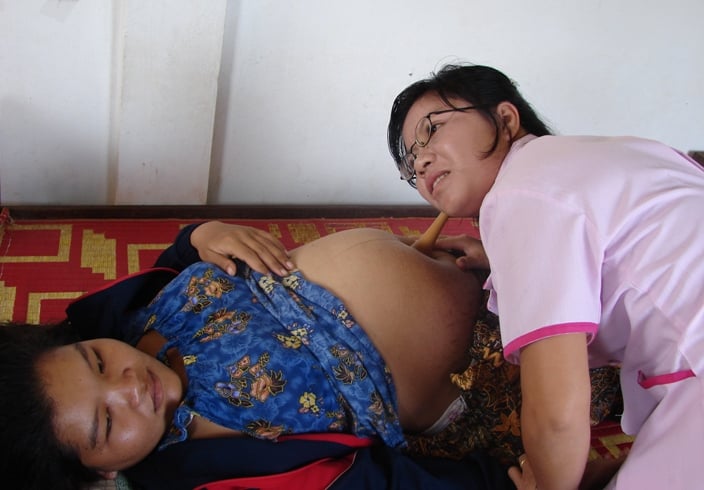 Despite the efforts to achieve improvements in health and wellbeing of Lao people, high mortality and morbidity among women and children remains a challenge. Indeed, the major obstacles to Lao PDR reaching its Millennium Development Goals (MDGs) include high rates of malnutrition seen in a number of provinces, and the high maternal mortality ratio (MMR) nationwide. The United Nations (UN) health agencies, UNFPA included, are committed to supporting Lao PDR to redress these barriers to national health and development.
Many families especially in remote rural areas do not have access to health services within easy travel distance. There is insufficient trained midwives in the Health system with poor quality of care due to lack of competent health service providers and managers, supply of RH commodities and supportive supervision. Further, health care providers who are in place have lack of motivation to work. There is no standardised equipment list for health care facilities. The stock availability of essential medicines for Maternal Health and contraceptive supplies are low due to the weaknesses in Logistics Management System (Stock availability survey, 2011). The Ministry of Health has adopted 'Strategy and Planning Framework for the Integrated Package of Maternal, Newborn and Child Health Services' (MNCH package) in 2009 which needs to be supported by high quality technical, financial and monitoring support for its implementation at national and sub-national levels to achieve its goals.
Women, family and communities have limited knowledge and awareness of SRH related issues and availability of services. Further, women do not want to use health care service due to limited trust in services, including cultural and financial reasons (RH at the Margins-Results from PEER Studies in Southern Laos, 2008). There is lack of a clear communication strategy, poor linkages and communication between health facilities and community. Also, there is limited community mobilization and participation as well as lack of empowerment and capacity of individuals, families and communities to demand services. The large number of ethnic languages contributes to the challenges in developing gender sensitive and socially inclusive IEC/BCC initiatives. As such providing information and counselling in local setting has been a challenge.
Evidence shows that reducing maternal mortality and improving the health of new-borns and children require effective "continuum of care", that is a comprehensive package of essential healthcare services at all levels of the health system complemented by care in the household and community. Continuum of care must include: promoting demand for maternal, neonatal and child health services; an effective referral network from the household to tertiary level health facilities; improving the quality of service delivery points for both promotive and curative healthcare; and continuing care during pregnancy, childbirth and after.
Thus our support for improved information and services focuses on:
The supply side (RHCS including repositioning family planning and SBA specifically the training and deployment of community midwives)
Demand creation, our support to communities to upscale participatory community assessments for generating information for planning at the district levels, and strengthening community mobilisation, through the use of Village Health Committees and the primary health care concept for improving access to family planning through the CBD programme.
Facilitating Adolescents and Youth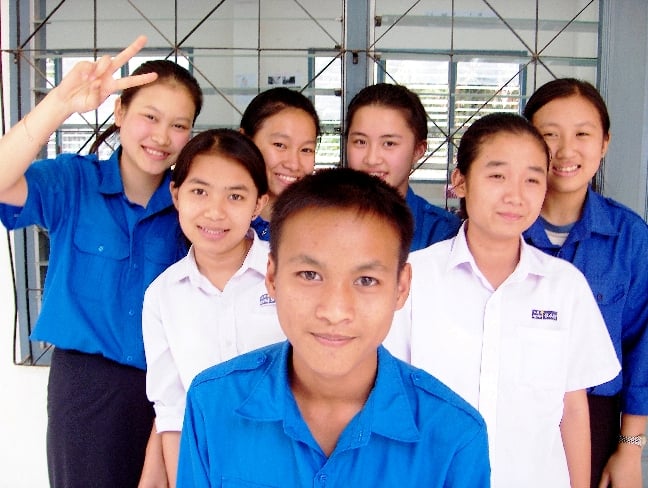 With the population being very youthful in Lao PDR - 60% at 25 years and less - it is our vision to deliver in a world where the potential of each of these individuals is fulfilled to the maximum. The health and well-being of young people as well as their capacity to speak up and participate in development continue to be challenges in achieving the national goals as stipulated in the 7th National Socio-Economic Development Plan (NSEDP), and seeing that Laos meets its targets for the MDGs by 2015.
Why do we say this?
Adolescent fertility rate is high, at 110 births per 1,000 women. There is limited data and analysis of the situation of young people and adolescents in Lao PDR. There is no national youth policy or strategy. Youth target group is not addressed in NSEDP. Existing data indicate that the national participation rate in upper secondary is approximately 37% with some districts lower than 20%. Non-profit Associations are emerging partners and youth groups exist but have limited registration as non-profit associations (NPAs). There is limited access to youth-friendly SRH services especially in public service and range of options for the young people including adolescents, to access SRH information and services, especially unmarried young people.
HIV prevalence is 0.2 per cent, with females aged 15-29 accounting for 61 per cent of reported cases of HIV. Data indicate that vulnerability to HIV infection peaks in the early to mid-twenties. STI rates are reportedly high among both female sex workers and men in high-risk groups (UNGASS, 2010 (UNICEF, 2010).
Working with various stakeholders, UNFPA is facilitating the integration of youth voices more meaningfully into decision-making for them and by them at all levels. The government of Lao PDR is committed and we have seen this being reflected in many fora, and at every opportunity.
The Ministry of Education and Sports is instrumental in helping young people in schools to begin to be more aware of themselves, their environment and their potential. The Lao Youth Union (LYU) and Lao Women's Union (LWU) are proactively at the grassroots level reaching out to even more youth, in school and out of school, notably through an established Youth Centre established with UNFPA support.
In the current CP this model is being scaled up to the provinces starting with Savanakhet, with the help of the youth themselves (from Vientiane Youth Centre), working closely with LWU and LYU as well as the Ministry of Health. This will ensure access to quality information and youth-friendly services for young people in Laos.
Much has been initiated, the capacity in Laos is wanting. Our efforts have to continue in providing technical assistance while building the capacity of the government to continue the implementation of their policies and plans. This will ensure improved women's health, as a whole, and --- the voice of adolescents and young people is heard for a better Laos.